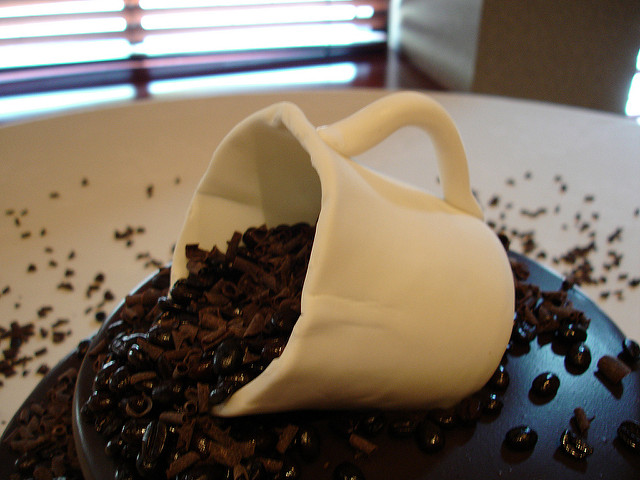 Mother of the Bride, has your future son-in-law decided on a design for his groom's cake yet? If he's not into all the wedding details, it may be the last thing on his mind. If that's the case, this where you and your darling daughter come in. He may need some ideas to choose from.
If the man of the hour is a coffee lover (or some might say a coffee nerd or coffee snob – ha!), the coffee cup idea pictured above above may be perfect cake design for him. Coffee beans and chocolate curls spilling out of the cup or mug and flowing over a double layer cake will catch the eye of all. He might even have a favorite coffee mug he'd like to feature on his cake.
You could even add an extra special touch to the groom's cake table and have coffee brewing nearby. Let a heavenly aroma turn getting a piece of the groom's cake into a total experience. I bet the coffee-loving groom will think of other things to add to his table as well. In fact, if you're not careful, he may go a little overboard!
So there you go, MOB—one more clever idea to share with the bride and groom. If coffee is not quite the right thing for this particular groom, maybe this idea will spark another idea that's perfect for him. Whatever is decided, I'm sure it will fun and yummy too!
*You might also like to read Groom's Cake Idea: Law Books (or any other books!), Groom's Cake Idea: Favorite Professional Sports Team, Groom's Cake Idea for the Military Man, Groom's Cake Idea: Show State Pride, and Groom's Cake Idea: A Chessboard!
*The next issue of Life Notes, my quarterly inspirational newsletter with a giveaway in every regularly scheduled issue, will come out in early May. Sign-up is FREE and to the right! (If you're on a mobile device, scroll to the bottom of the screen and click View Full Site to find it.)
*For info about my book Mother of the Bride and also my Wedding Inspiration cards, check out my Books/My Work page.
*Flickr photo by TN Something Special Cakes, Creative Commons License