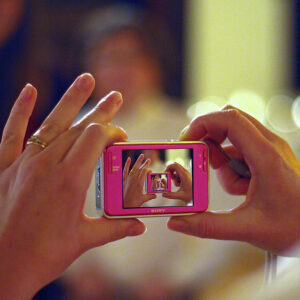 The last thing the Mother of the Bride wants to be doing during Wedding Weekend is taking photos. Of course, you'll have a professional photographer for the day of the wedding, but precious photo opportunities will abound all weekend long. Like any loving mother, MOB, you won't want to miss a single shot, but it's hard to be in the moment and enjoy everything fully if you're busy capturing it all on camera.
Here's a tip that will free you up not only to live the moments as they unfold but will also take one big responsibility off your shoulders: Ask a family member or friend to be in charge of your camera for the entire wedding weekend. You'll then be able to concentrate fully on carrying out your MOB responsibilities and on enjoying all those once-in-a-lifetime moments as they happen.
Be sure your designated amateur photographer understands the importance of his or her role. Ask them to take shots of anything and everything a devoted MOB would want pictures of—decorating day and all that it entails, the rehearsal and dinner following, the bridesmaids luncheon or other pre-wedding events, moments the extended family spends together, and of course fun shots of Wedding Day that your professional photographer might not get. It's always nice to have the day recorded from various vantage points, and your camera-toting volunteer will make that possible.
And you, Mother of the Bride? Just be in the moment and enjoy!
*What kinds of things should you consider when deciding who to ask to fill this role?
*Photo by Kevin Dooley, Creative Commons License