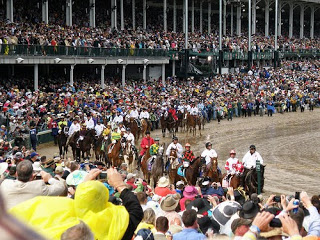 True to our own little tradition, Don and I went to the movies on Halloween. This year we saw Secretariat and joined thousands, past and present, who have watched victory unfold from the grandstands. Couple this inspiring story of a triple crown winner with the movie's amazing and moving musical score, and you feel like you're there, one of many pulling for the big, red horse to win it all.
I couldn't help but notice one young moviegoer who was so engrossed in the story playing out before us that she nearly came out of her chair with excitement during the last race segment. Sitting in front of us and down a few seats, she rocked on the edge of her chair in time to the beat of Secretariat's hooves. She was determined to help him win — as were the many who were really in the stands that day.
The energy and cheers of the fans undoubtedly provided Secretariat with the extra measure of inspiration and determination needed to gain the victory. And when the victory was won in such an amazing fashion, the grandstands erupted in unbridled cheers. Not only did the fans earnestly pull for Secretariat, they rejoiced wildly in his victory.
A scripture passage from Hebrews tells us that we, too, are surrounded by such a throng as we run the race of life. People are in the grandstands for us. Yes, folks are pulling for us. Not only those who know and love us, but the scripture refers to those who have gone on before us. What a powerful thought — the hosts of heaven pulling for us, willing us to do our best and then rejoicing in our victories.
Anyone in need today of an extra measure of inspiration and determination as you run life's race? Close your eyes and envision the grandstands around you. Remember they're filled with people who want to see you win. Do you hear the cheers? Let them spur you on to victory. Press on. Give it your best!
"Therefore, since we are surrounded by such a great cloud of witnesses, let us throw off everything that hinders and the sin that so easily entangles. And let us run with perseverance the race marked out for us." Hebrews 12:1
Flickr photo by Ryan Bjorkquist, Creative Commons License
*The Life Notes Subscriber Appreciation Giveaway deadline is this Sunday. Details are in my Oct. 10 post and sign-up is to the right. Don't miss out on the chance to win a $25 gift card to Barnes & Noble!