Since July is here and Don is now on his summer break, all semblance of normalcy and routine have flown out the window here at the Barker house. Wish I could take credit for the cute photo above, but things haven't gotten quite that crazy around here yet :) That shot is actually a Flickr photo by familymwr (Creative Commons License).
Last year during our crazy month of July (we even had a wedding thrown into the mix!), I opted to do a few weeks of Photo Fun here on the blog to give myself a break from writing that takes more focused thought. We don't have a wedding this summer, but my growing-more-crowded-by-the-second calendar tells me that I need to make photo fun a tradition when Don is on summer break. So let's just make it official. Summer Photo Fun now has a regular gig here on Cheryl's R&R! :)
To kick off this year's Summer Photo Fun, I wanted to share a sweet series of shots taken of my Dad and my niece Joanna (his granddaughter) last summer at Kelli and Jake's wedding. To Joanna's left you can see her mom, my sister Janice. These are some of our favorite family shots from the wedding. I think you'll see why. Such precious love. Enjoy!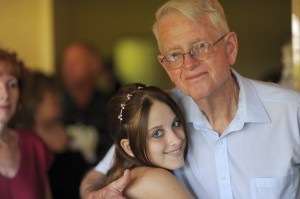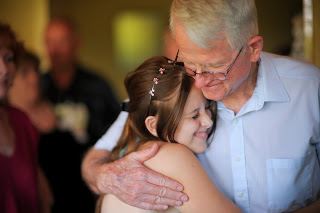 "… love one another deeply, from the heart." 1 Peter 1:22b
*Grandpa/Joanna photos by Will Flowers