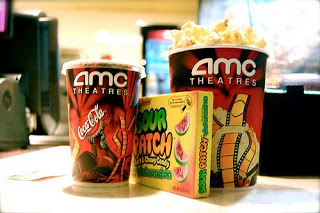 After a ridiculous start to our weekend (a car breakdown and a break in our waterline under the house), we finally whisked ourselves away from the homestead and celebrated Halloween by going to a movie, a tradition we started several years ago.
No, we didn't go to an AMC like the picture above suggests — we went to a Cinemark (our favorite theater, by the way). But we did, however, partake in movie snacks. For us, that's just part of the fun of going to the movies. Plus it helps keep Don awake :)
We ate lunch on the run because of all the earlier insanity, and by the time we made it to the late afternoon showing of Amelia, we barely made it through the previews before digging into our popcorn. Of course, I had to have some Peanut M&Ms to add some chocolate to the whole affair, but notice how I went the healthy route by eating the peanut variety :)
Since this was our supper, we ate quite a lot — got the popcorn and drink with refills. Not the most nutritious meal but fun to do every now and then. At least at first. After some speed shopping after the movie, I realized I was still hungry as we began our drive back home. The junk food just hadn't satisfied.
So what did we do? Stop and get something healthy, something that would stick to our ribs? No, we were running late and wanted something quick. We stopped at Braum's for chocolate shakes. No, I'm not kidding. I hate to admit it, but it's true.
By the time we got home over an hour later, I felt — how shall I say it? — yucky. I had the jitters from all the sugar and chocolate, plus my stomach felt gross, but at the same time, still kind of hungry. All those empty calories had not met the need. After a short while, I was hungry for more.
Sometimes we do the same thing where our spirits are concerned. Our spirits get hungry and thirsty for something that will fill our need, something that will satisfy, but instead we fill them with things that just bring a temporary lift — shopping, food, relationships, recreation, alcohol or whatever our drug of choice. The list goes on. Call them empty calories that leave us hungry for more.
Many of these temporary lifts are good and meant to be enjoyed in moderation, but only one thing will satisfy that deepest part of us — a relationship with Jesus. He said, "'I am the bread of life. He who comes to me will never go hungry, and he who believes in me will never be thirsty.'" (John 6:35)
Let's turn to Him and His Word when our spirits are hungry and thirsty. Let's go to the One who satisfies. What He gives will fill our need. No empty calories from Him.
Flickr photo by naydeeyah, Creative Commons License
**Current and new subscribers to Life Notes, my free quarterly inspirational newsletter, will be included in a drawing for a $25 gift card to Barnes & Noble. Sign up by noon (CST) Nov. 22 on the sidebar to the right for a chance to win! (See Nov. 1st post for details.)