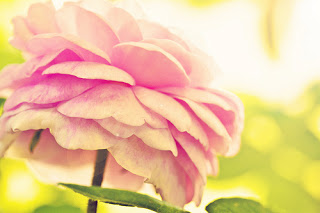 In case you haven't figured it out yet, I've got a competitive streak. Just ask my family.
The latest evidence of my drive to win (aka my cutthroat tendencies :)) occurred during our Easter visit to Mom and Dad's. Yes, I indulged in cutthroat behavior on Easter weekend. It seems my desire to conquer knows no bounds. Good grief :)
This time the game was Mexican Train Dominoes. You know—that nice little game that almost anyone can play. Nice, that is, until I implement my Mexican train policy. Yes, I have a policy :)
In this version of dominoes, after everyone has their first turn and plays on the double in the middle, someone can start the Mexican train off to the side (using another of the same number as the double in the middle). This is a neat, wild-card feature to the game that allows players to get rid of dominoes that don't fit into their own train somewhere.
Now, if a player can't play on their own train, he has to draw from the pile until he can play on his spot. Since that can get super depressing real fast, someone usually has pity on that poor person and plays on his train to try to help get him started. But me? I have a policy—a policy to start the Mexican train first. In other words, I do what's best for me in the long-run instead of helping someone from my very own family. I told you I was bloodthirsty :)
Of course, my family gives me trouble about this little policy, but as I said to them Easter weekend, "What good's a policy if you don't live by it?" We all laughed, and it immediately became an ongoing joke.
You'd think my fellow players would pay me back big-time when I didn't have the right domino to start my own trains, but believe it or not, they didn't. Someone would take pity on me right away instead of starting the Mexican train like I would if given the chance. I humbly thanked each benefactor and then next round, I'd go right back to playing by my notorious policy.
In the days after we returned home, I kept thinking of the kindness and compassion shown to me—not only by my family but by my Heavenly Father as well. My competitive heart began to soften. I decided that maybe it's time to change my policy. Kindness looks more attractive than winning. (At least that's how it looks when I'm not in the throes of a game :))
If kindness can work to change my cutthroat behavior, I wonder what else kindness can change? When we are faced with someone's hard-hearted or even downright mean behavior toward us or our loved ones, I wonder what would happen if we implemented a kindness policy?
It might take awhile. We might not see immediate results. But there's a good chance kindness will soften that hard heart. For you see, kindness works. I'm living proof.
"The LORD appeared to us in the past, saying: 'I have loved you with an everlasting love; I have drawn you with loving-kindness.'" Jeremiah 31:3
*How have you seen kindness work before?
*Don't miss out on the "This One's for the Girls Giveaway"! Deadline to enter is noon on Mother's Day.
*It's not too late to receive the current issue of Life Notes, my quarterly inspirational newsletter. Sign-up is free and to the right!
*Flickr photo by Earl-Wilkerson