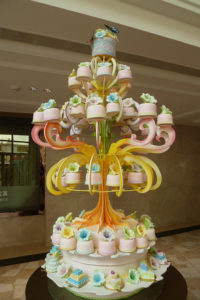 Mother of the Bride, everyone tends to get excited when it's time to talk wedding cakes. Whether they're on the team planning the wedding or just one of the guests on the big day itself, everyone looks forward to seeing—and eating—the cake. After all, it's the crowning touch at the party so I hope you and your daughter have tons of fun considering all the options—and tasting a few too!
One wedding cake option that presents a slight twist on the popular cupcake wedding cake is the mini cakes wedding cake. These mini cakes are completely frosted and can be detailed in design or feature a simple design instead. One style is pictured above and another below.
If this idea appeals to your daughter and her beloved, they'll still need to decide on the exact style they want as well as the cake flavors they want to include. Of course the more detailed and time intensive the design, the more the baker may charge for the cake. As with all wedding cakes, he or she will give you a price estimate after you tell her exactly what you want. Then you all can go from there in making the final decision.
So MOB, when it's time to talk cake, don't forget the mini cakes wedding cake idea. Who knows, it may be the crowning touch to the party that tickles your girl's wedding cake fancy!
*You might also like to read Wedding Cake Trend: Multiple Mini Cakes and Wedding Cake Roundup.
*For info about my book Mother of the Bride and also my Wedding Inspiration cards, check out my Books/My Work page.
*The next issue of Life Notes, my quarterly inspirational newsletter, comes out this week. One lucky subscriber will receive a $15 gift card to Barnes & Noble and a signed copy of my book to use personally, give as a gift, or donate to a library. Sign-up is free and to the right! (If you're on a mobile device, scroll to the bottom of the screen and click View Full Site to find it.) p.s. It is too late to get in on this issue's giveaway, but if you subscribe, you will be included in all future Life Notes giveaways.
*Flickr photo at top by sofimi, Creative Commons License; Flickr photo at bottom by Graceful Cake Creations, Creative Commons License