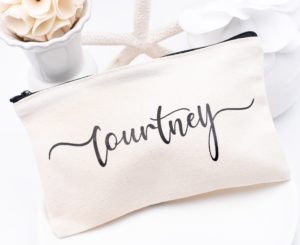 Mother of the Bride, has your daughter given any thought yet to the gift she'd like to give her bridesmaids?
Most brides give their maids a little something special just to thank them for being a special part of her big day and for all their support along the way. Some give the gifts during the rehearsal festivities and while others give them on wedding day. Some might even opt to surprise their bride tribe ladies at a bridesmaids luncheon or some other special time like a spa day together. Any time will work—it's the gesture and heart behind it that matters the most.
Possible gift ideas abound, of course, but one super cute idea is the Beigetone Soaps Personalized Canvas Carry Bag pictured above.
Tuck in a few special items like the amazing soaps Beigetone offers and possibly a nail polish that would work perfectly with the dresses they'll be wearing on the big day. Your daughter will have fun selecting items and whatever she includes will be a special treat for all.
This sweet little zip bag can be used in a variety of ways and will provide your daughter's maids with a fond memory every time they use it. On wedding day it could hold the essentials each lady will need as they get ready or it might serve as a handy catch-all as they make their way to the party following the ceremony. After that the bag might become a favorite makeup bag or a handy little item to have when packing a suitcase.
So Mother of the Bride, why not suggest this idea to your darling girl? If she loves the idea, my friend Nancy at Beigetone Soaps will be happy to help in any way she can. I've ordered from her before and she does a wonderful job of packaging your purchase. Your daughter can send her a note if she has special requests, and Nancy will do her best to fulfill them! (By the way, MOB, this would also make a perfect little gift for you to give the mother of the groom just for fun!)
*You might also like to read Ten Thousand Villages Gifts for the Bridesmaids, A Fun Gift from the Bride to Her Maids, and Fun Gift Idea: Tote Bags for the Bridal Party
*For info about my book Mother of the Bride check out my Books/My Work page.
*The new issue of Life Notes, my quarterly inspirational newsletter with a giveaway in every regularly scheduled issue, came out yesterday. It's not too late to receive it. Sign-up is free and to the right! (If you're on a mobile device, scroll to the bottom of the screen and click View Full Site to find it.)
*Photo by Beigetone Soaps