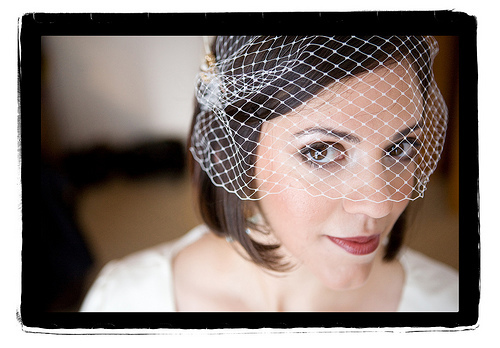 Mother of the Bride, if your daughter still needs to select a veil, be sure she includes the birdcage veil among her choices. The bridal veil is one of the bride's most important accessories in completing her look on her big day, and it's always a good idea to consider all the possibilities.
Birdcage veils looks very classic and elegant, and believe it or not, they include lots of variety. They can complement many different styles of gowns and hairstyles as well. Have your bride-to-be take a look at Birdcage Veils.com and Birdcage Veils on Pinterest to get an idea of the choices that are out there.
Initially, MOB, your daughter may not see herself in a birdcage-style veil, but as with gowns, she'll never know how beautiful they can be until she tries some with her dress. Even if she doesn't think she wants one, encourage her to try at least one. She might be surprised. She might just fall in love with the style!
*You might also like to read In Lieu of a Veil: Floral Bridal Combs or Hairpins, Hand-Painted Wedding Shoes for the Bride, and Sparkle Up the Bridal Garter.
*The next issue of Life Notes, my quarterly inspirational newsletter, comes out tomorrow. Sign-up is free and to the right!
*Don't miss out on the Splurge a Little Giveaway over on my home page. Deadline to enter is 6 p.m. (CST) Wednesday!
*Flickr photo by melissajean_98, Creative Commons License