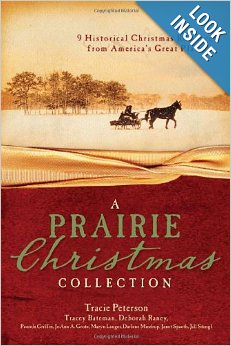 If you know me, you know I've got to celebrate Christmas here on the blog with a little giveaway. I've always enjoyed playing Santa so let the Christmas giveaway tradition continue with a ho-ho-ho and a Merry Christmas! :)
The winner of A Little Yuletide Giveaway will receive a copy of A Prairie Christmas Collection, a large beautiful paperback compilation of nine historical Christmas romances by authors including Tracie Peterson and Deborah Raney. I thoroughly enjoyed reading this special Christmas book, and I know you will, too.
To enter the giveaway, just leave a comment on this post by 6 p.m. next Wednesday, December 11th. If I don't know you personally or cannot contact you via your website or blog, be sure to include your email address (such as cheryl at cherylbarker dot net). It's not required for the giveaway, but to make it more fun, why not tell everyone what Christmas book (or books) you would recommend for holiday reading.
I'll kick off our holiday reading recommendations.  Some of my favorites—in addition to the one being given away—include A Simple Amish Christmas by Vanetta Chapman, A Christmas Longing by Joni Eareckson Tada, and I'll Be Home for Christmas by Thomas Kinkade. Of course, since I have a story in The Spirit of Christmas, compiled and edited by Cecil Murphey and Marley Gibson, I'd love to recommend that one as well :)
I'll announce the winner of A Little Yuletide Giveaway in next Thursday's Midweek Morsel post. Good luck—and happy December to all! May you draw especially close to God this holiday season!
"When the angels had left them and gone into heaven, the shepherds said to one another, 'Let's go to Bethlehem and see this thing that has happened, which the Lord has told us about.'" Luke 2:15
*Added note: Just started reading A Stubborn Sweetness and Other Stories for the Christmas Season by Katherine Paterson, award-winning author of Bridge to Terabithia, and am loving it. Above and beyond most of the other Christmas books I've been reading. I'm only a few stories in, but I already highly recommend it. Katherine's husband is a minister, and she wrote these stories across the span of many years to be read at their Christmas Eve services.
*Photo from Amazon.com