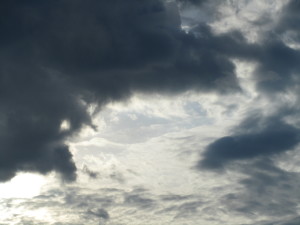 "When times are good, be happy; but when times are bad, consider: God has made the one as well as the other." Ecclesiastes 7:14a

Nothing like a little gem from God's Word to put things in perspective, huh?
Why is it, I wonder, we are so quick to thank God and acknowledge his presence and hand in the awesome blessings that come our way, but when something bad happens, we say, "Where were you, God? Why did you let that happen?"
When tough times come, has God really stepped away from us? When painful events descend, has he removed his hand from our lives?
If we believe the Word of God—and in particular the above verse from Ecclesiastes—no, God is not an aloof observer when our world is falling apart. He allows grief, hardship, and pain to touch our lives and will use those experiences for good in some way.
Romans 8:28 (KJV) says, " And we know that all things work together for good to them that love God, to them who are the called according to his purpose." The question is will we believe that truth and trust God when we are hurting?
Let's remember that we are dearly loved children of God (1 John 3:1), and he stands ready, just as we do with our children, to help and comfort us through our bad times. Let's not let our trials distance us from our Father. Let's draw close to him and let him carry us, trusting all the while that he will not waste our pain.
"Though he brings grief, he will show compassion, so great is his unfailing love. For he does not willingly bring affliction or grief to the children of men. " Lamentations 3:32-33
*My photo