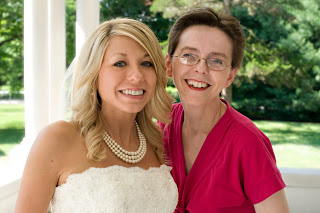 Just for fun — and before my days as a mother of the bride are too far behind me — allow me to share a few observations I've noticed about MOBs. After all, I've learned a lot about them in the past few years while teaming up with both my daughters as we navigated and ultimately conquered the course to their respective altars.
The MOB looks like any ordinary woman, but don't be fooled. She's capable of far more than mere appearance may lead you to believe. No one can match her speed and stamina on marathon shopping expeditions, and the massive amounts of detailed information stored in the forefront of her mind would fry the brains of those with lesser reservoirs of love and motivation. She's nothing short of an organizational maven on steroids. No, nobody's gonna mess up her baby's wedding.
But, while MOBs have lots of business to attend to, they also have major fun while helping plan the biggest parties of their little girls' lives. So in that spirit of fun, here are a few sure-fire ways to spot these supermoms in their natural habitat. They may even now be circulating in your midst! :)
She might be an MOB if:
1. Her purse is home to an assortment of color swatches.
2. Her car's GPS is permanently set to find the nearest Hobby Lobby.
3. Her spare bedroom, in fact, looks like Hobby Lobby threw up in it.
4. She feels the need to buy another bolt of tulle every time she leaves the house.
5. The latest decorating craze in her home seems to be yellow sticky notes.
6. Her eyes flash dollar signs every time she uses her credit card.
7. She uses her credit card every five minutes.
8. For every item she crosses off her list, she has to add three more.
9. She carries a notebook filled with enough plans to command a small army. And finally, she might be an MOB if…
10. Even after all the shopping she's done for the wedding, she still goes on a quest to find one special wedding memento for her precious daughter and her new son.
So if you spot one of these special women out and about, give her a hug — or a piece of chocolate or a gift certificate for a massage or something. Believe me, she needs it :)

"'Many women do noble things, but you surpass them all.'" Proverbs 31:29
*Photo by Will Flowers