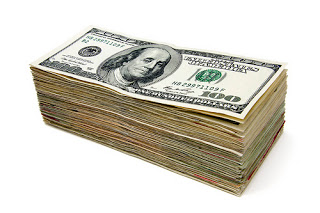 Anyone thinking about Valentine's Day yet? With February almost upon us, allow me to start the Valentine's Day fun with a little giveaway designed to get you out of the house with your special guy or gal. Could any of you use some cool cash (though not a stack of it like above!) for a hot date about now? I thought so :)
Because I'm in the mood to play Cupid this year, I will give $25 cash (or check or Visa cash card) to one lucky commenter. I've got my arrow poised and ready. Now all you've got to do is get in the line of fire :)
To enter this super fun Cool Cash for a Hot Date Giveaway, leave a comment on this post by noon (CST) February 12 to be included in the drawing. If I don't know you personally or can't contact you via your own blog, you must include your email address in your comment to be eligible for the giveaway.

If you have time for some fun, tell me in your comment about one of the best dates you've ever had. I'll go with something fairly recent so I don't have to strain my brain too much :) My husband and I love to go to the movies, but last fall we saw a live comedy show (a gift from our daughter Kristin and her husband Shawn). We LOVED it. Now I'm thinking we may have to change our date-night destination from the movie house to the stage a little more often! :)
As we think about dates with the ones we love, let's remember to make special dates with the Lover of our souls as well. Let's spend time with Jesus, the One who gave His very life so we could have fellowship with Him. Lots of best dates are on the horizon with Him!
"[Jesus] said to them, 'Come with me by yourselves to a quiet place and get some rest.'" Mark 6:31b
*The next issue of Life Notes, my quarterly inspirational newsletter, will come out later this week. Sign-up is free and to the right!
*Flickr photo by AMagill