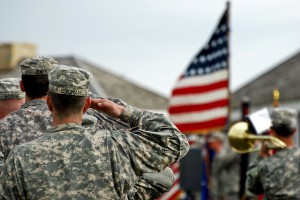 Celebrations of all sorts mark the Fourth of July each year—as they should. We as individual Americans—and as a nation—have much to be grateful for, don't we?
Sometimes we forget, though. Today let's think about the blessings of living in the USA. Let's never take our freedoms for granted.
 I'm grateful for our nation because:
We are governed by a democracy and we have the right to vote.
We enjoy freedom of religion and can assemble as believers without fear of punishment or persecution.
Provision is made for the poor.
Our military does a superb job of protecting our nation.
Our land is beautiful and filled with natural wonders, and our national park system does a great job of preserving them.
These are just a few reasons I'm grateful to be an American. What can you add to the list?
 "Enter his gates with thanksgiving and his courts with praise; give thanks to him and praise his name." Psalm 100:4
*Flickr photo by The U.S. Army
*Today I'm blessed to be guest posting for Vonda Skelton over on Inspire A Fire. We're "Remembering Those Who Aren't So Free — Persecuted Christians." Hope you'll come join us!