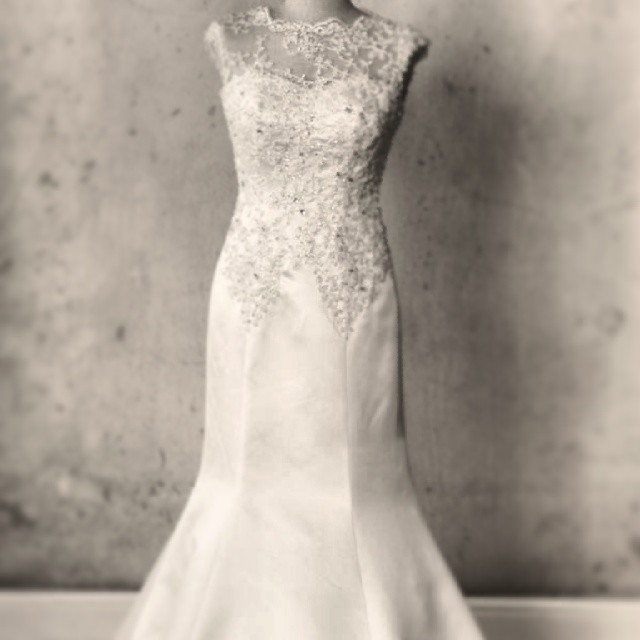 Mother of the Bride, if your daughter isn't thrilled with the prospect of wearing a strapless wedding gown on her big day, she is in luck—a beautiful new trend has hit the bridal fashion world. I'm a fan of lots of options anyway, so this is welcome news. I love it that brides now have a few more choices available to them than the predominant strapless gown of the past several years.
The new trend featuring a lacy top or sleeve is not only a gorgeous look, but it has other benefits, too. Your daughter won't have to worry about not filling out the preformed bodice of a strapless gown, or on the other hand, if she is super well-endowed, she won't have to feel like she's bursting out of the top of her dress. She'll be able to relax and not worry about her bosom! :) And one less worry on her big day is definitely a win on the wedding front, right?
The lacy top or sleeve will also take the pressure off to wear a stunning necklace of some sort. Not everyone has an appropriate piece of jewelry to go with the most gorgeous gown they'll ever wear. Instead, a beautiful pair of earrings can be the perfect accessory with this new style of gown. If the groom hasn't gifted your daughter with bridal jewelry or if she (or someone in the family) doesn't already have jewelry that will work, earrings will be much easier on the budget than the more costly necklace needed to accompany a strapless gown.
Have fun, MOB, shopping for gowns with your little girl turned bride—and keep your eyes peeled for those with a lacy top or sleeve. It might be just what your daughter falls in love with!
*Check out these examples from Bridal Guide. See lots of other great options on my Bridal Gowns Pinterest board.
 *The next issue of Life Notes, my quarterly inspirational newsletter, will come out next week. Sign-up is free and to the right!
*Don't miss out on the Going Natural Giveaway! Deadline to enter is 6 p.m. Wednesday. See post on my home page for details.
*Flickr photo by Wedding Dress Factory Outlet, Creative Commons License