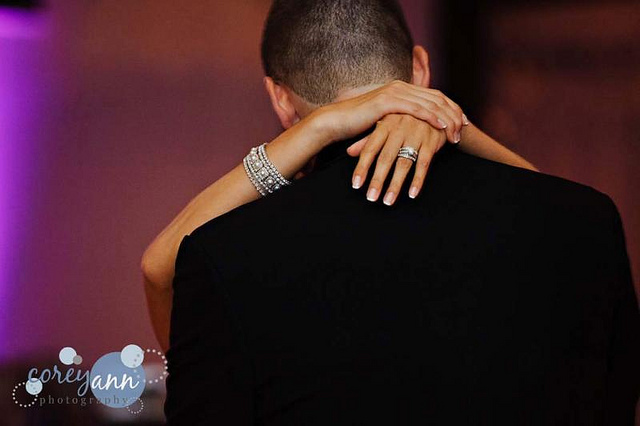 How about a twist on the more common Wedding Day first dance photos, Mother of the Bride? How about one that shows off the bride's rings? That's right, why not highlight the fact that she's a married woman now. Let the glory of it be recorded for all time!
As the bride slips her arms around her groom's neck, the photographer can capture the perfect shot—and not only of the rings, but of their love and of the elegance and beauty of their fairy tale day. Her freshly manicured nails and the sparkle of her rings shows up perfectly against his black tux, creating such a rich shot. But more than that, the love shines through without a word in this simple and tender pose.
MOB, why not share this post with the photographer so he or she can be looking for the perfect opportunity to capture a similar shot with your daughter and her beloved? What a sweet surprise it will be for them when they see the photos from their special day!
*You might also like to read Engagement Photo Idea: Show Off the Ring and A Keepsake Photo of the Wedding Invitation.

*The next issue of Life Notes, my quarterly inspirational newsletter, comes out next week. Sign-up is free and to the right!
*Don't miss out on the One-More-Chance Starbucks Giveaway on my home page. Deadline to enter is Feb. 10th!
*Flickr Photo by Corey Ann, Creative Commons License