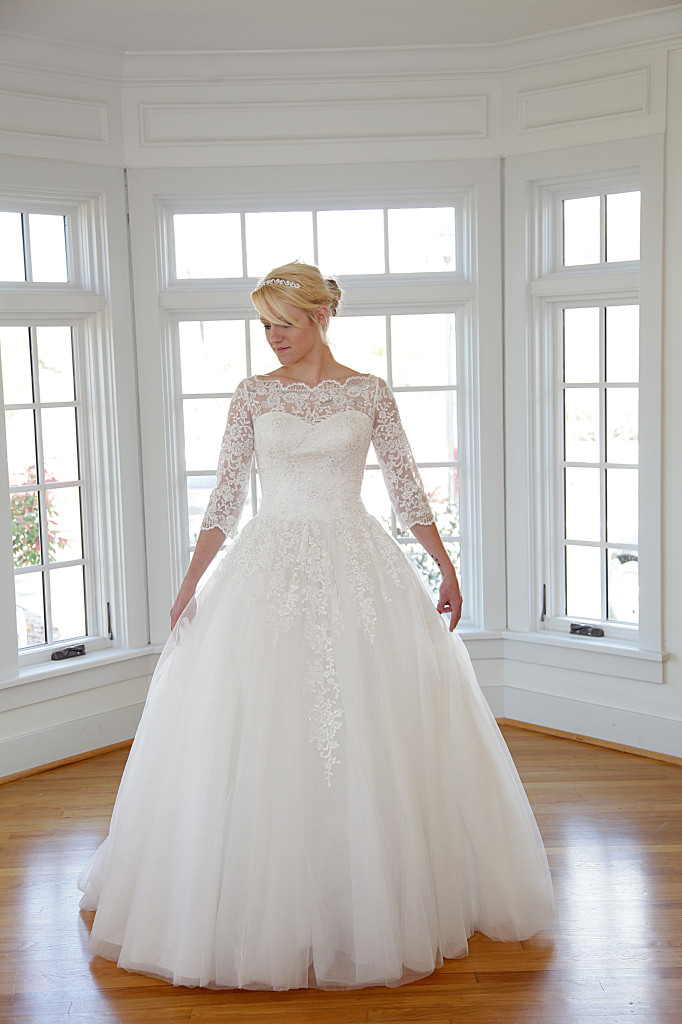 Mother of the Bride, for several years strapless bridal gowns dominated the bridal attire landscape, but a different trend seems to have taken hold now—illusion lace sleeves. According to Belle the Magazine—The Wedding Blog for the Sophisticated Bride—illusion lace sleeves are here to stay.
The photo above is actually one I used a couple of years ago of a gown from Chatfield's, a bridal shop that specializes in modest gowns, but it wonderfully illustrates the illusion lace sleeve trend that is popular currently. I love the delicate and feminine look this particular trend affords—so romantic and even vintage looking.
To see some other absolutely gorgeous gowns featuring the illusion lace sleeve trend, hop on over to Belle the Magazine's blog post.  The dresses pictured there are all so elegant and stunning. I definitely love this trend!
If your daughter doesn't have her gown yet, be sure and share this post with her, MOB. She might just find her dream dress—or at least a feature she wants to keep in mind as the two of you begin shopping for her dress. Enjoy this special part of the journey!
*You might also like to read Bridal Gowns with Modest Design—Try Chatfield's! and New Trend in Wedding Gowns: Lacy Top or Sleeve.
*The next issue of Life Notes, my quarterly inspirational newsletter, comes out in early May. One lucky subscriber (new or current) will receive a gift valued at $20 (shipping included) from Beigetone Soaps and a signed copy of my book to use personally, give as a gift, or donate to a library. Sign-up is free and to the right!
*Photo compliments of Chatfield's