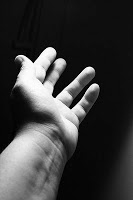 Dizziness. Vertigo. An injured foot or leg. Any one of these things can find us reaching out to someone or something for support. I've been there before, and I'm sure you have, too.
A friend of mine, in fact, copes day in and day out with a medical condition that makes it challenging for her to walk at times. Not long ago during an outing together, a bad spell struck. The distance to a nearby bench loomed large, but with great effort and the help of the cane she carries for just such times, she managed to make it.
After resting for awhile and taking some medicine to ease the symptoms, she felt ready to attempt the next leg of our journey. I had parked the car as close as to the building as possible, but now it felt miles away. Once again, with concentration and slow steps, she moved forward.
At one point, she paused to regroup and said, "If I just had a wall…" I answered instantly, "I'll be your wall." I knew she just needed a steadying influence on her side without the cane. With her characteristic good attitude, she made light of the situation, and I joined in. By the way, no matter what we get ourselves into, it seems we always end up laughing about something. I love that about our friendship.
I was glad to be her wall that day. Happy to be her steadying influence. Heaven knows, she's been mine time and again. But I guess that's what friendship is all about, isn't it?
And let's not forget, we have another Friend always ready to be our steadying influence, always standing by. Next time a bad spell of discouragement, heartache, or pain strikes you, just turn your thoughts to Him. I bet you'll hear Him whispering, "Don't worry. I'll be your wall…"
"Fear thou not; for I am with thee: be not dismayed; for I am thy God: I will strengthen thee; yea, I will help thee; yea, I will uphold thee with the right hand of my righteousness." Isaiah 41:10 KJV

Flickr photo by D. Sharon Pruitt, Creative Commons License