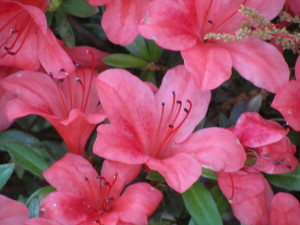 Ready or not, May is here, and it's time to get your celebrate on. Just think about it. For most people, May packs quite a punch with all its opportunities—and obligations—to celebrate one thing or another.
Right out of the gate comes May Day, but does anyone still observe it? I hope so. It would be a shame for that sweet tradition to fall by the wayside altogether. What fun to find a basket or bouquet of flowers left on your doorstep by some mysterious gift-giver. And what fun to be the one who surprises someone else!
Next comes Mother's Day, huge in scope as our entire nation acknowledges it in one way or another. Cards, gifts, flowers, church, eating out, family gatherings. Any and all of these happen on Mother's Day.
At the end of the month during Memorial Weekend, most of us kick the summer off with some kind of fun, but life is certainly not quiet between Mother's Day and Memorial Day. Be sure to make room for all the graduations and weddings that will take place. And don't forget birthdays that still beg celebration and also the anniversaries that roll around because of all those May weddings from preceding years.
Anyone tired yet? But it's a good tired, isn't it, when we're celebrating the special events of people we love with people we love. We just need to plan for it—make room in our schedules by letting a few things slide so we can take the pressure off and enjoy our various celebrations.
And while we're busy partying with family and friends, let's not forget to celebrate our Creator and the beauty of the world He's given us. From the vibrant splashes of spring flowers to the ripe, red lusciousness of a strawberry fresh from the patch, we have plenty of reasons to celebrate and praise our awesome God. May the month of May in all its glory and with all its celebrations point us to Him!
"Praise be to his glorious name forever; may the whole earth be filled with his glory. Amen and Amen." Psalm 72:19

What are you celebrating this May? I'd love to hear about it!
*Life Notes, my inspirational quarterly newsletter, comes out this week. If you don't already receive it, sign-up is free and to the right!
*And don't forget to throw your name in the hat for the "Feather Your Nest" Giveaway!
*My photo