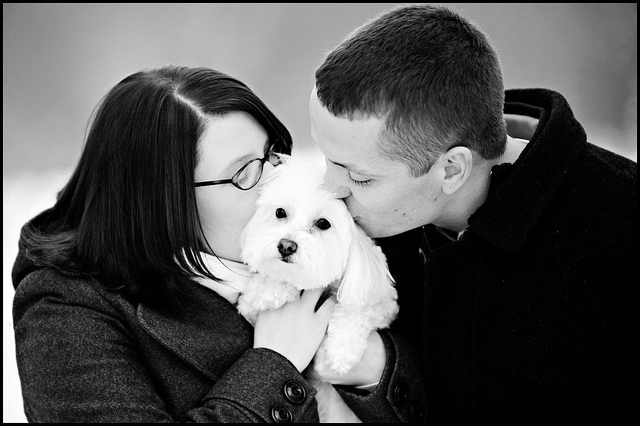 Mother of the Bride, does your daughter have a running list of possible engagement photo ideas to share with their wedding photographer?
If so—and if your little gal and her guy have a much loved dog (or other pet)—here's an idea you'll want to share with her pronto. Have the photographer include their pooch in a shot!
Including the couple's dog is such a fun idea, and I especially like the super cute way it's done in the photo above—doggie in the center with the Mr. & Mrs.-to-be planting kisses on him or her at the same time. Of course, the photographer will probably take a series of shots with the dog, so I'm sure they'll be sure to get several great photos.
So MOB, share this photo with your sweet couple and keep your eyes peeled for other unique ideas. They'll appreciate every great idea you can send their way!
*You might also like to read Engagement Photos: Consider a Night Shoot, Engagement Photo Idea: Bike Fun!, Engagement Photo Idea: Show Off the Ring, and Engagement Photo Idea: Frame That Moment!
*The next issue of Life Notes, my quarterly inspirational newsletter, comes out in early February. Sign-up is free and to the right!
*Flickr photo by Corey Ann, Creative Commons License