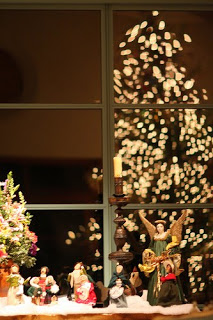 I know we're not even halfway through September yet, but as our church's Angel Tree coordinator, it's time for me to start looking ahead. Not only did I receive my first box of materials from Angel Tree headquarters this week, our missions committee spent considerable time Wednesday afternoon discussing this important Christmas outreach to prisoners' children.
In all honesty, on the heels of a nearly year-long wedding planning marathon and three lengthy hospital stays of my mother-in-law since Memorial Day, I don't feel quite ready to tackle another huge project. But ready or not, the time to begin planning has arrived, and you know what? God is faithfully igniting a spark of excitement in me — though I have to admit it does ebb and flow at this point. The Lord knows I'm weary, though, and I firmly believe He'll give the strength, enthusiasm, and help I need to coordinate this special ministry.
Already, members of our missions committee have offered help by brainstorming ideas for a different approach to the gift distribution this year, by gathering info and providing links to possible evangelism resources, and by offering to make some needed contacts. As I said last year, Angel Tree offers the perfect opportunity for the church to be the church, working together to show and share the love of God with hurting people.
Is your church involved in Angel Tree? Let me know in a comment — I would love to hear about it. If not, would you consider suggesting it as a Christmas outreach this year? According to a recent email I got from the Angel Tree home office, there is still a need for many more church partners. (You can register on their website.)
Maybe you and your church family can be the ones to put smiles on the faces of some very special kids this year. And more importantly, maybe you can be the ones to share the Hope of Christmas with them. Look ahead with me, won't you?
"…'Do not be afraid. I bring you good news of great joy that will be for all the people. Today in the town of David a Savior has been born to you; he is Christ the Lord.'" Luke 2:10-11

*Flickr photo by Erik Charlton