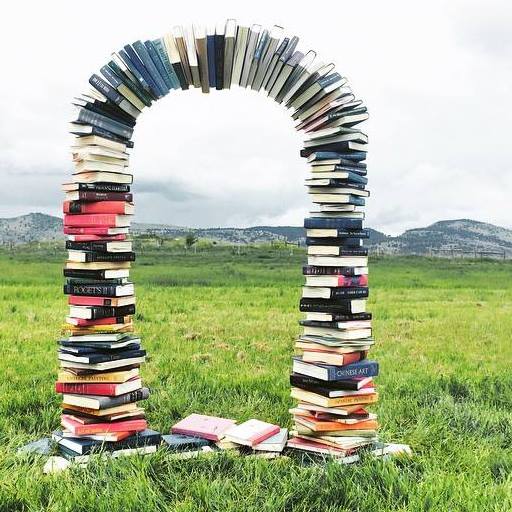 Mother of the Bride, if the soon-to-be Mr. and Mrs. in your life are book lovers or teachers, here is a fun idea for décor at the ceremony site: a wedding arch made of books! Perfect, huh?!
A book arch is such a clever and creative idea that provides a colorful backdrop for the happy book-loving couple's ceremony. The photo above shows an arch featured at an outdoor wedding, but a book arch could also work beautifully for an indoor ceremony as well. Books know no bounds, right?
You can even find instructions on how to make one style of book arch on ListLab, and if you do a search for book arches on Pinterest or Google, you'll see a variety of styles.
Good luck, MOB, on helping your daughter and her beloved start their new lives together surrounded not only by their family and friends but by their love for books as well. Happy book collecting!
*You might also like to read Table or Mantelpiece Décor Idea for a Rustic Wedding, Wedding Décor Tip: Adorn the Church with Pew Bows, and Pew or Chair Décor Idea: Sunflowers!
*The next issue of Life Notes, my quarterly inspirational newsletter, comes out in early August. Sign up is free and to the right!
*Photo by Geoff Spahr