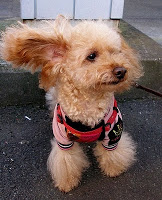 I'm all ears today. You've listened to me tell you all kinds of things about my life, and now it's your turn to talk to me. Like the pup above, I'm all primed and ready to hear what you have to say. It's about time, huh? :)
For the next few days, let's enjoy a little fun and fellowship. Everyone chime in and answer any or all of the following questions. Some are serious and some are light-hearted, but all will give me — and fellow readers — a chance to know you a little better. Can't wait to hear from you! :)
1. Who is your all-time favorite movie star?
2. What's one of your most embarrassing moments ever?
3. What's the best thing that's happened to you so far in 2010?
4. What Bible character (besides Jesus!) do you admire the most? Why?
5. Where do you hope to travel next?
6. What's one of the biggest challenges you've faced so far this year?
7. What was the last book that really wowed you? What do you hope to read soon?
8. Tell me one thing that drives you crazy — even if it's about me! :)
9. What are you passionate about?
10. Last, but certainly not least, what's your favorite sweet treat? :)
Okay, like I said, I'm all ears so let me hear from you. Yes, even you lurkers :) Join the fun and fellowship and let me know you're out there! Blessings to you all this week!
"We proclaim to you what we have seen and heard, so that you also may have fellowship with us…" 1 John 1:3a

*The next issue of Life Notes, my quarterly inspirational newsletter, will come out the first part of May. Sign-up is free and to the right!

*Flickr photo by tanakawho