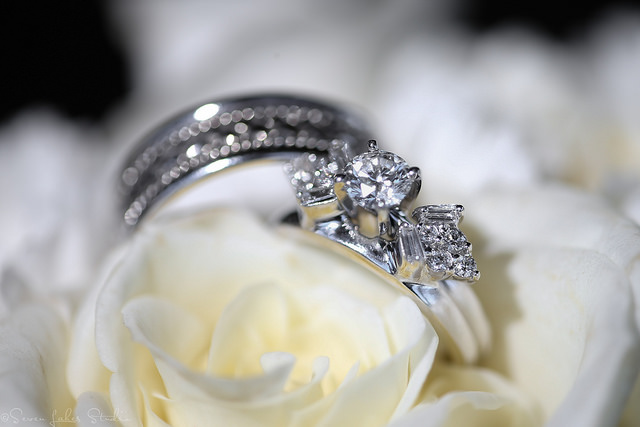 *To free some of my time for other things, I'll now be posting only on the first and third Tuesdays of each month. Be sure to use the Search feature and the drop-down menu in the archives to help you find topics you're interested in. Hope my posts help you!
Mother of the Bride, are you gathering wedding photo ideas to share with your daughter? If so, be sure to share this idea of how to show off the wedding rings. It's pure perfection.
Wedding rings nestled in the bridal flowers is not a new idea, but it is one of my favorites. The solid color and softness of delicate flowers provide the perfect backdrop for the sparkling beauty of wedding rings. Such a romantic way to feature the rings!
Saying it with flowers will not only make a wedding-ring shot pop with beauty, but it will pop with meaning as well as two important elements of the wedding are combined. This photo will be one to treasure since it features the rings symbolizing the joining together of two souls and the flowers which capture the joy and celebration of the big day itself.
I bet your sweet girl will love this idea, MOB. Have fun sharing it!
*You might also like to read Wedding Day First Dance Photo: Show Off Her Rings! and Wedding Day Photo Idea: Rings on a Starfish!
*For info about my book Mother of the Bride and also my Wedding Inspiration cards, check out my Books/My Work page.
*The new issue of Life Notes, my quarterly inspirational newsletter with a giveaway in every regularly scheduled issue, came out last week. It's not too late to receive it. Sign-up is free and to the right! (If you're on a mobile device, scroll to the bottom of the screen and click View Full Site to find it.)