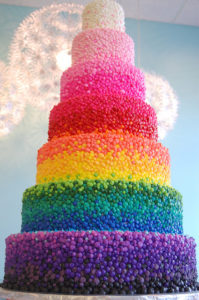 *FYI, I won't be posting next week but will see you back here on Jan. 22. Blessings to all!
Mother of the Bride, even though it's January and you may have just started a diet, it's one of your MOB duties to think about cake—wedding cake that is. It may be the yummiest duty you have, so enjoy it while you can, okay?
I bet your bride-to-be-daughter will be happy to join you in your confection contemplations if she hasn't already got her heart set on a certain cake design. If she's still undecided, be sure to share today's idea with her.
This cake covered in multicolor balls of buttercream icing (yum!) would be a fun design any time of year. The colors featured here would be perfect for a summer wedding, but if you're planning a spring, fall, or winter wedding, just change up the color combination to fit the season—or the colors of the wedding.
What do you think, MOB—would this be something your daughter might go for? Have fun chatting about it and even more fun when it comes time for tasting!
*You might also like to read Wedding Cake Roundup, Wedding Cake Idea: A Crepe Cake, Wedding Cake Idea for Musicians, Spring Wedding Cake: Cherry Blossoms, and Winter Wedding Cake: Pinecones and Baby's Breath
*For info about my book Mother of the Bride check out my Books/My Work page.
*The next issue of Life Notes, my quarterly inspirational newsletter, comes out in early February. One lucky subscriber (new or current) will receive a $15 gift card to Starbucks and a signed copy of my book to use personally, give as a gift, or donate to a library. Sign-up is free and to the right! (If you're on a mobile device, scroll to the bottom of the screen and click View Full Site to find it.)
*Flickr photo by haleycakesandcookies, Creative Commons License