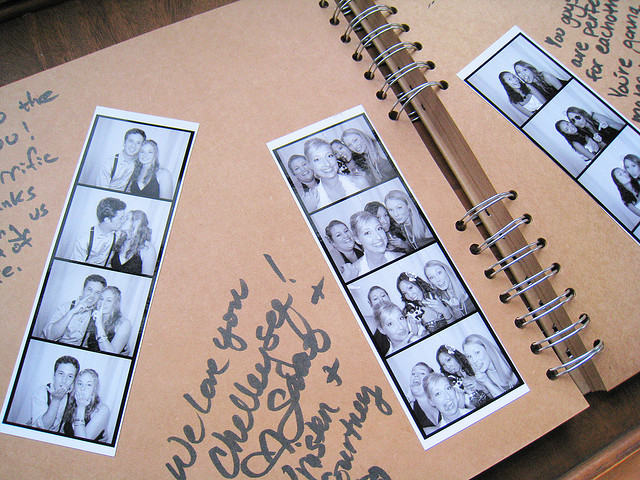 Mother of the Bride, is your daughter looking for something fun or especially memorable to do instead of a traditional wedding guest book? Here is an idea that may just be an answer to her bride-to-be prayers: a guest book featuring photo booth photos of your wedding guests!
A photo booth wedding guest book provides not only a super fun visual record of those attending the wedding, but it gives the guests a chance to include a personal message as well. As opposed to the formal feel of the traditional sign-your-name-on-the-line-provided guest book we usually see at weddings, a photo booth guest book takes on an almost yearbook feel. Fun and memorable!
Photo booths for reception fun are great, too, as they allow the guests to take memories home with them, but the photo booth for the wedding guest book will be for the benefit of the bride and groom.
The bride and groom are so distracted on the big day (imagine that!) that many times they don't have solid memories of those who attended. After the newlyweds have returned from their honeymoon and things have calmed down a bit, the photo booth guest book will allow them to review who was in attendance and to notice details they may have missed on their wedding day.
So go ahead and mention this clever guest book idea to your daughter, MOB. She may decide it's one of your best ideas yet!
*You might also like to read Providing Photo Booth Fun for Wedding Guests, Wedding Guest Book Ideas, and Guest Book Idea: A Guest Tree.
*For info about my book Mother of the Bride check out my Books/My Work page.
*The next issue of Life Notes, my quarterly inspirational newsletter, comes out in early November. One lucky subscriber will receive a $15 gift card to Starbucks and a signed copy of my book to use personally, give as a gift, or donate to a library. Sign-up is free! *Temporary problem with Life Notes sign-up. To sign up, just contact me.