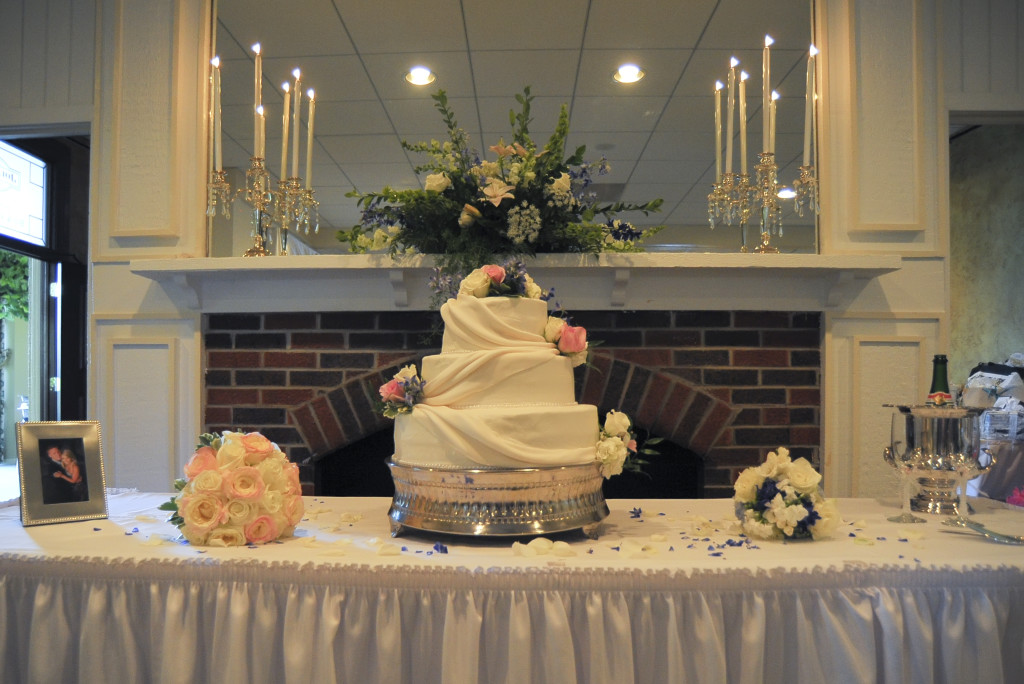 Mother of the Bride, want to add another aww factor to the cake table besides the cake itself? Display one or more of the happy couple's engagement photos! It will be elegant but simple at the same time. Can't beat that!
Featuring an engagement photo on the cake table not only adds a sweet and romantic touch to the cake table décor, it gives you one more way to use and share those special photos that you've already spent money on. It's always a plus when one expense can fulfill more than one purpose, isn't it, MOB?
If possible, match the frame to the cake or other décor on the table to help pull the whole look together. The silver frame in the photo above is the perfect complement to the white wedding cake, silver cake stand, and the silver champagne bucket and cake server set used at my daughter Kelli's wedding. In the photo below, the brown wooden frame is a perfect match for the chocolate groom's cake chosen by my daughter Kristin's groom for their wedding.
If simple, elegant, and already paid for sounds like a good combination to you, MOB, see if your daughter and her beloved would like to display some of their engagement photos on their cake tables. Everyone will enjoy!
*You might also like to read Preparing to Decorate: Reception Venue Visit, Wedding Table Decor: Add Pizzazz with Confetti. and Table Decor Finishing Touch: Fresh Rose Petals.
*For info about my book Mother of the Bride and my Wedding Inspiration cards, check out my Books/My Work page.
*The next issue of Life Notes, my quarterly inspirational newsletter with a giveaway in every regularly scheduled issue, will come out in early May. Sign-up is FREE and to the right! (If you're on a mobile device, scroll to the bottom of the screen and click View Full Site to find it.) *Temporary problem with Life Notes sign-up. To sign up, just contact me.
*Photo above by Flowers Photography; photo below by Chris Humphrey Creative Services