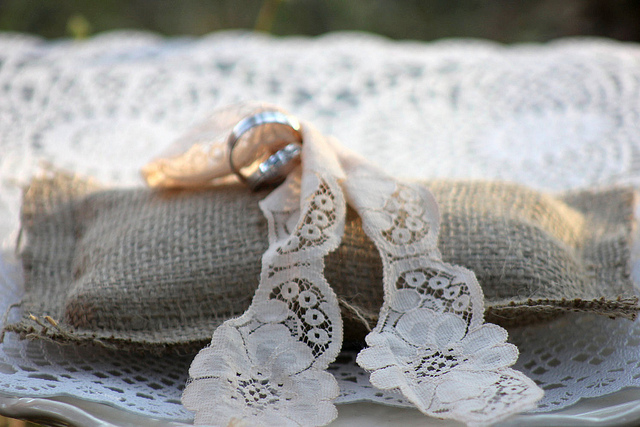 Mother of the Bride, if you're helping your daughter plan a rustic wedding, why not add an extra touch of rustic by using burlap for the ring bearer pillow and flower girl basket?
Chances are you're already using burlap in some of your décor so a burlap pillow and basket will fit right in. They'll add the perfect complementing touch, in fact. Like with any color or décor decision, featuring burlap in a variety of places will really help pull the look together.
The photos above and below show how accenting the burlap with lace adds such a pretty and feminine effect. For someone who can sew, the pillow and basket could be fairly easy to make, and if you're designing and making your own, the possibilities are wide open as to the detail you could use.
So MOB, suggest to your daughter to take rustic a step further and go with burlap on these important ceremony accessories!
*You might also like to read Rustic Wedding Resource, Cake Idea for the Rustic Wedding, Table Décor for Rustic Weddings, Rustic Wedding Bridal Shoes: Boots—What Else?, Wedding Centerpiece With a Rustic Flair, and Rustic Wedding Idea: Boot Bouquets.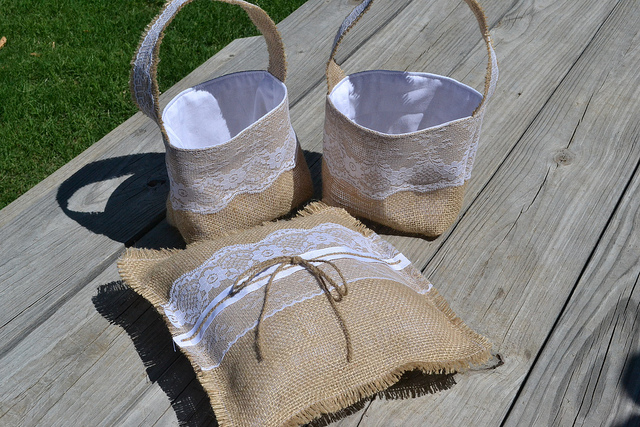 *For info about my book Mother of the Bride check out my Books/My Work page.
*The current issue of Life Notes, my quarterly inspirational newsletter with a giveaway in every regularly scheduled issue, came out earlier this month. It's not too late to receive it. Sign-up is FREE. *Temporary problem with Life Notes sign-up. To sign up, just contact me.
*Flickr photo at top by Mannia&Titta, Creative Commons License, Flickr photo at bottom by Lori Hartman Designs, Creative Commons License