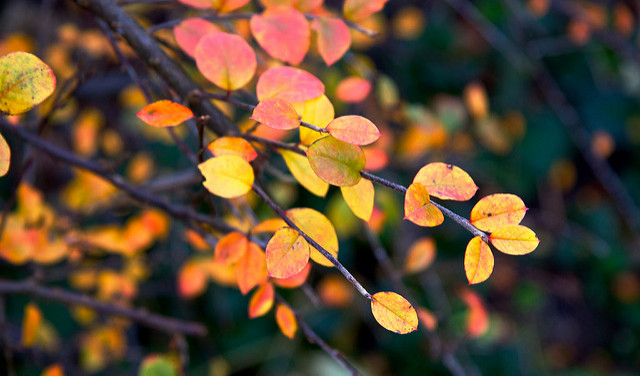 After posting 7 September Stress-Busters last month, I thought it might be nice to offer month-appropriate stress busters each month throughout this next year. Stress certainly doesn't take a vacation, so many of us might benefit from some fresh stress-busters at the beginning of every month, huh?
May the following stress-busting strategies come in handy in October when you find yourself in need of refreshment and relief. Be blessed, friends!
October Stress-Busters
Enjoy a fun fall activity with some favorite kiddos in your life. Visit a pumpkin patch, collect colorful leaves, or carve pumpkins for Halloween. Enjoy the season like a kid again!
Decompress with the beauty—and awesome autumn scents—of candlelight. Light candles in various spots in your house so their soothing beauty and comforting aromas will refresh you as you move from room to room.
After the leaves change color, go on a walk in the woods (or your favorite tree-lined street or park.) Let the awesome oranges, reds, and golds fill your spirit with joy.
Spend an entire day (or morning or evening) in your favorite comfy pants and cozy socks. As you change into your relaxed attire and let it comfort your body, take off the stress of the day or week as well. Let your spirit and soul relax and be refreshed.
Plan a coffee or lunch date with friends and treat yourselves to some special foods or drinks offered during fall. Get that pumpkin spice latte or apple cinnamon muffin. Slow down and savor a taste of autumn.
Watch for an especially cool evening and start a fire in the fireplace or firepit. Sit for awhile and soak up its warmth and relaxing beauty. And don't forget to roast some marshmallows or make some smores. Fully enjoy this evening respite.
Let the cool evenings of October give you permission to curl up on the sofa with your favorite hot drink and a good book (or a must-see tv show.) Lose yourself—and your stress—in a compelling or funny story. Enjoy the fruits of someone else's labor.
Along with these stress-busting strategies for October, let's not forget to turn to the One who knows every stress we face and is willing and waiting to take the load from us and let us relax in his arms. No better place to be—no matter the day or month!
"The eternal God is your refuge, and underneath are the everlasting arms." Deuteronomy 33:27 NIV
*Which of these stress busters sounds the most appealing to you?
*The next issue of Life Notes, my quarterly inspirational newsletter, comes out in early November. One lucky subscriber (new or current) will receive $15 gift card to Barnes & Noble and a signed copy of my book to use personally, give as a gift, or donate to a library. Sign-up is free and to the right! (If you're on a mobile device, scroll to the bottom of the screen and click View Full Site to find it.)