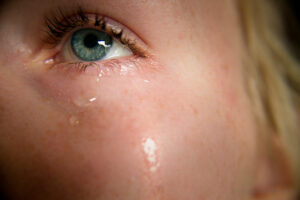 "Those who sow in tears will reap with songs of joy. Those who go out weeping, carrying seed to sow, will return with songs of joy, carrying sheaves with them." Psalm 126:5-6 NIV
What does it mean to sow in tears? I'm sure there's more than one way to interpret these verses, but one thing I think of as I read them is prayer.
We sow seed as we pray for those who have never come to faith in Christ. We sow as we pray for those who have drifted away from God and as we pray for the needs of our churches. But how earnestly do we intercede for these deep needs?
When was the last time our tears flowed or we experienced internal anguish as we prayed for a family member, a friend, or someone else's loved one to give his or her heart to the Lord? Or to come back to him? When was the last time we wept over a people group deluded by a false religion? When was the last time we sowed in tears? I admit these questions convict me, and I wonder if they do you as well.
If we're not careful, our prayers can be half-hearted or superficial. To sow in tears we must take time to care. We must open our hearts and love people. If we do this, their separation from God will surely drive us to our knees—and to tears.
So yes, when we care, we will feel sorrow, but the Word tells us we will also "reap with songs of joy." And when it comes to the salvation or restoration of a soul, one song of joy will be worth a thousand tears.
"I have great sorrow and unceasing anguish in my heart. For I could wish that I myself were cursed and cut off from Christ for the sake of my people . . ." Romans 9:2-3 NIV
*When have you reaped with songs of joy after sowing in tears for someone?
*The next issue of Life Notes, my quarterly inspirational newsletter with a giveaway in every regularly scheduled issue, will come out in early November. Sign-up is FREE and to the right! (If you're on a mobile device, scroll to the bottom of the screen and click View Full Site to find it.) *Temporary problem with Life Notes sign-up. To sign up, just contact me.
*For info about my book Mother of the Bride and also my Wedding Inspiration cards, check out my Books/My Work page.