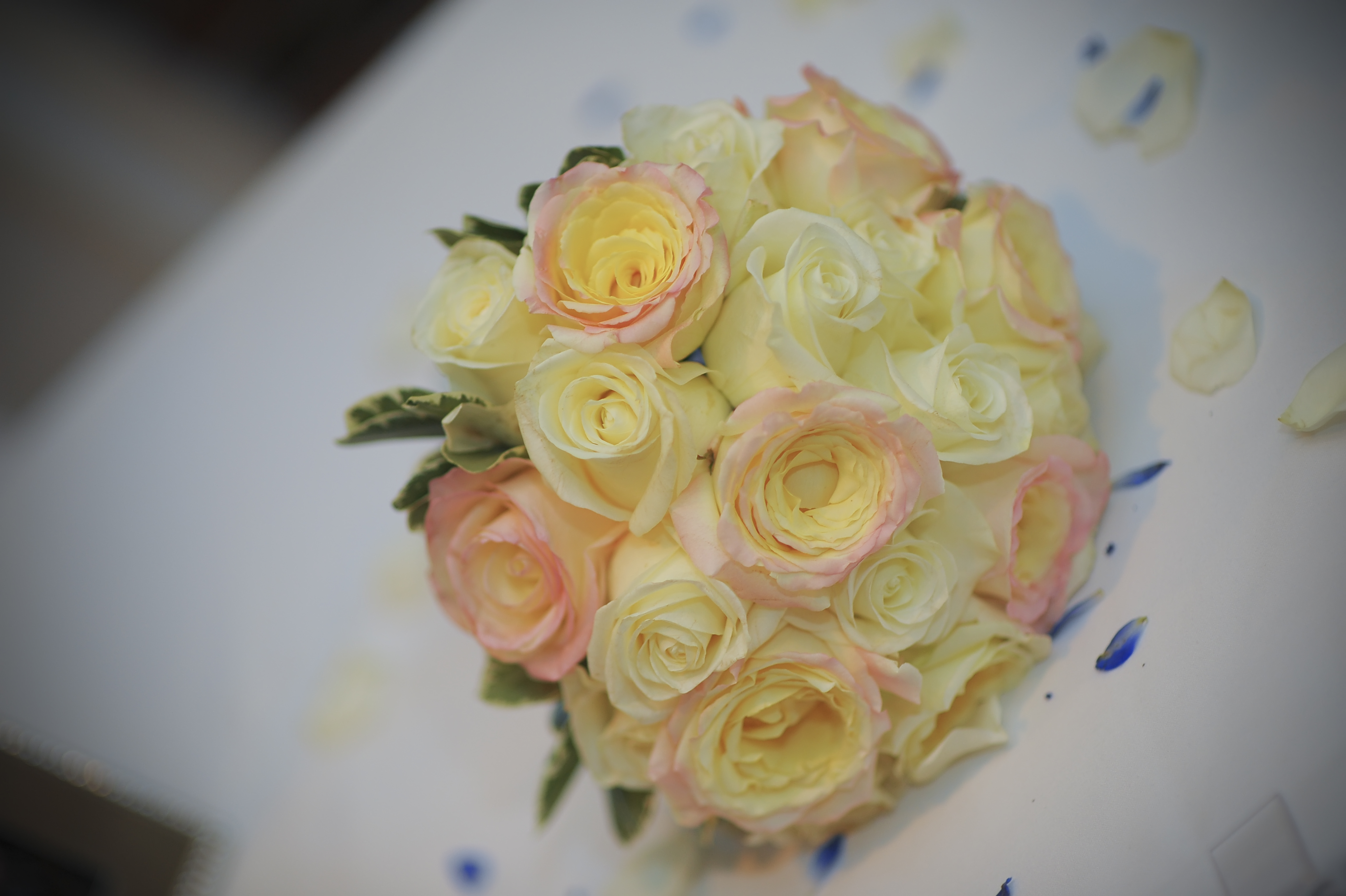 Mother of the Bride, does your daughter know what kind of bridal bouquet she'd like yet? She may be overwhelmed with all the possibilities out there. Should she go with vibrant color or a shade of white or cream to blend with her dress? Roses or a mix of blooms? A hand-held stem bouquet or a cascade design?
If she loves the white or cream-colored rose option (always beautiful!), suggest this tip our florist gave us for my daughter Kelli's bouquet: add just a hint of another soft color. For example, like in the photo above, incorporate just a few roses that have a pale pink edge but with a center color that blends with the color of the primary roses.
Isn't it amazing how the lightest touch of color can make a bouquet even more distinctive and beautiful? And just think how gorgeous the photos will be. Give your girl this suggestion, MOB—you'll both be glad you did!
*You might also like to read Bridal Bouquet Idea: Add Some Sparkle with Gemstones, Bridal Bouquet Roundup, and Bridesmaid Bouquet Idea: Add Candy!
*For info about my book Mother of the Bride check out my Books/My Work page.
*The next issue of Life Notes, my quarterly inspirational newsletter, comes out in early November. One lucky subscriber will receive a $15 gift card to Starbucks and a signed copy of my book to use personally, give as a gift, or donate to a library. Sign-up is free and to the right! (If you're on a mobile device, scroll to the bottom of the screen and click View Full Site to find it.) p.s. If you sign up after Oct. 30th, you will be included in all future Life Notes giveaways but not in this current giveaway.
*Photo by Flowers Photography