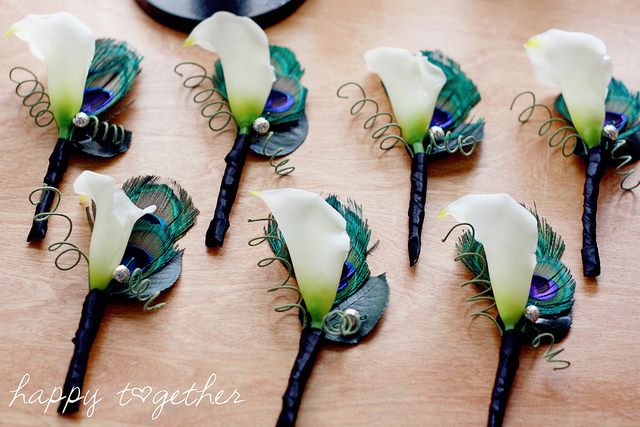 Mother of the Bride, are your daughter and her intended ready to consider flowers for their wedding yet? If so, how would the groom feel about incorporating feathers into his choice of boutonniere? Peacock feathers could be one way to go if the colors coordinate with the couple's chosen wedding colors.
Some grooms like the idea of a peacock feather boutonniere minus flowers, but the idea pictured above shows how it can be made more elegant by pairing it with a calla lily. Not only does it look more elegant, but the light color of the calla lily makes the whole look pop. And then, of course, if calla lilies are featured in other aspects of the wedding, all the better.
Why not share the idea with them, MOB, if they haven't made firm choices on their wedding colors yet. This may be just the special touch they're looking for without even knowing it!
*You might also like to read Wedding Flowers: Baby's Breath Boutonnieres, Bridal Bouquet and Boutonniere Sheet Music Idea, and Wedding Day Need: Corsage and Boutonniere Pinner. 
*For info about my book Mother of the Bride and also my Wedding Inspiration cards, check out my Books/My Work page.
*The next issue of Life Notes, my quarterly inspirational newsletter, comes out in early May. One lucky subscriber (new or current) will receive a $15 gift card to Barnes & Noble and a signed copy of my book to use personally, give as a gift, or donate to a library. Sign-up is free and to the right! (If you're on a mobile device, scroll to the bottom of the screen and click View Full Site to find it.)
*Flickr photo by ohsohappytogether, Creative Commons License