*Thanks to Siege Media for their help writing and creating this post.
Mother of the Bride, destination weddings are always beautiful and exciting for both the couple and their guests. Destination weddings give everyone the opportunity to take a mini vacation and explore the area where your wedding is being held.
When we think of destination weddings, a summer wedding at the beach or a vineyard event is what usually comes to mind. For something a bit more out-of-the-box, let's consider some beautiful wedding venues perfect for a winter destination wedding. 
Planning a winter wedding can not only help you stay within budget but can also give you opportunities to get creative and plan a truly unique wedding day. As we all know, wedding costs can accumulate quickly, especially when you book your wedding during peak wedding season. This is why the winter season is perhaps the best time of year to have a budget-friendly wedding. You'll also have more flexibility when it comes to vendors and venues since it will be a slower season for everyone. 
Winter weddings can help you add creative and warm details your guests are sure to love. Things like blankets or scarves as party favors, a hot cider station, or a hot chocolate bar are just a few fun favorites that will make your wedding cozy and memorable.
Here are a few winter wedding venues highlighted plus a link to them and more below: 
Dunton Hot Springs – Dunton, CO
For a more outdoorsy couple, Dunton Hot Springs in Colorado is great! It's rustic vibe and crystal white snow background will leave you with little else to add. 
Union Hill Inn – Sonora, CA
This fairytale-like inn is great for couples who want a winter wedding but are feeling a little unsure about heavy snow. The gardens and cottage rooms create an ideal space for any wedding. 
Treehouse Point – Issaquah, WA
One of the most unique venues on this list, Treehouse Point offers a breathtaking area in the middle of the forest full of adorable treehouses for your guests to stay in. Plan your wedding in one of their communal areas for an unforgettable event.
For photos of the above options as well as more venue ideas, check out the full list of winter wedding locations. The roundup includes essential details including peak winter wedding months of each location, capacity, wedding spaces offered, and best nearby lodging for you and your guests.
Have fun with your daughter, MOB, as you consider these winter wonderland destination venues for her big day!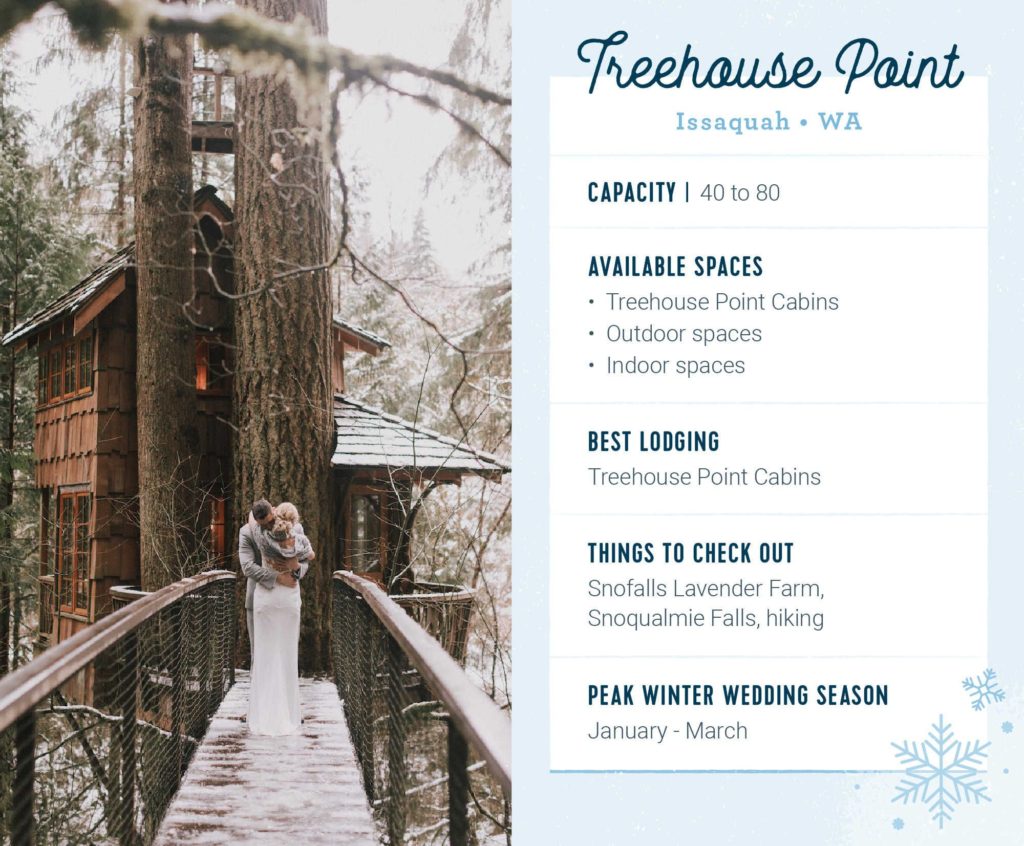 *You might also like to read Favor Help for Winter Weddings, Winter Wedding Cake Idea: Snowflakes!, and Winter Wedding Cake: Pinecones and Baby's Breath!
*For info about my book Mother of the Bride and also my Wedding Inspiration cards, check out my Books/My Work page.
*The new issue of Life Notes, my quarterly inspirational newsletter with a giveaway in every regularly scheduled issue, will come out in early May. Sign-up is free and to the right! (If you're on a mobile device, scroll to the bottom of the screen and click View Full Site to find it.)
*Thanks to CarRentals.com for the images.