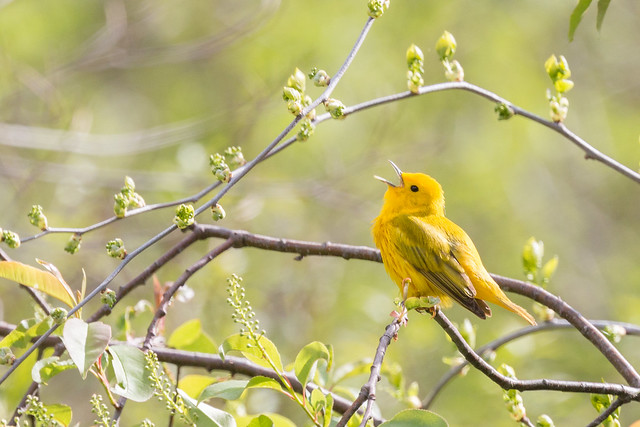 Early in the mornings, when I stick my head out the door or step outside for a few seconds to take in the beauty of the day, the sounds that greet me often capture my attention first. And right now, it's the sounds of spring that fill the neighborhood. Yes, the sounds of life are once again in full voice.
These lively spring mornings stand in stark contrast to the silence that met my ears this winter during my early morning checks of the day. The sounds of nature seemed to freeze right along with the icicles hanging from the eaves of our home. Even God's creatures knew when to hole up and snuggle in rather than venture out into the bitter cold.
But now the world has come to life again. Spring has turned up the volume, and I for one am loving the concert it gives each day.
The sound of birds may be my favorite. With their various melodies and calls, they soothe my soul or sometimes surprise me with sounds of a brawl. At other times, I'll hear squirrels chattering or the steady background noise of a spring shower, and occasionally thunder will announce a coming storm. On other days, the sound of the wind tries to drown out things of lesser notice. And, of course, we humans add to the symphony with our excited proclamations of spring's arrival and our too-early-in-the-season lawn mowing escapades.
Yes, winter is past. Spring is here. Life has begun anew. What a perfect accompaniment it was to our celebration of the Easter season. May our voices of praise to our Creator and Redeemer add to the sounds of spring, add to the sounds of life!
"Let the heavens rejoice, let the earth be glad . . .  let the fields be jubilant, and everything in them . . . " Psalm 96:11-12 NIV

*What's your favorite sound of spring?
*The next issue of Life Notes, my quarterly inspirational newsletter, comes out in early May. One lucky subscriber (new or current) will receive a $15 gift card to Amazon and a signed copy of my book to use personally, give as a gift, or donate to a library. Sign-up is free and to the right! (If you're on a mobile device, scroll to the bottom of the screen and click View Full Site to find it.) *Temporary problem with Life Notes sign-up. To sign up, just contact me.
*For info about my book Mother of the Bride and also my Wedding Inspiration cards, check out my Books/My Work page.