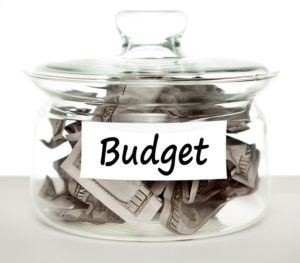 *I'll be taking a blogging break during Spring Break so will see you back here Tuesday Mar. 27. Blessings to all!
Mother of the Bride, are you on the same financial wedding-planning page as the Father of the Bride? Budget talk is never fun—in daily life or in wedding planning—but you'll save yourself and your husband (or ex-husband as the case may be) countless unpleasant exchanges if the two of you are in budget agreement from the earliest stages of your planning.
FOBs may joke that their job in wedding planning is to hand over the checkbook or credit card, but they really do want to have a say in what's reasonable to spend for the whole affair. If you're not careful, wedding expenses can turn into a runaway train in the blink of an eye. If you know how much the FOB is comfortable spending, MOB, you'll know when to apply the brake and slow the wedding-planning locomotive down.
Most men—on their first time around the FOB block—have no idea what a wedding can cost so be sure to enlighten the FOB in your life early on. Better to give him a chance to absorb the shock and weigh in on the budget for your particular wedding than to hit him with repeated shockers throughout the course of the planning.
So MOB, honor the FOB by getting on the same financial page with him from the beginning. Remember, you're on the same team. You'll enjoy the big day—and each other—so much more if financial strain and unhappiness doesn't become a wedge between you. And hey, your spirit of cooperation will bless your sweet daughter as well!
*You might also like to read Wedding Expenses: Get the Most Bang for Your MOB Buck, A Simple Wedding Expense Tip, and Wedding Savings Tip: Borrow!
*For info about my book Mother of the Bride check out my Books/My Work page.
*Have you subscribed to Life Notes, my quarterly inspirational newsletter with a giveaway in every regularly scheduled issue? If not, sign-up is FREE and to the right! (If you're on a mobile device, just scroll to the bottom of the screen and click View Full Site to find it.)
*Hope this revised encore post from Jan. 2014 was helpful to you today!