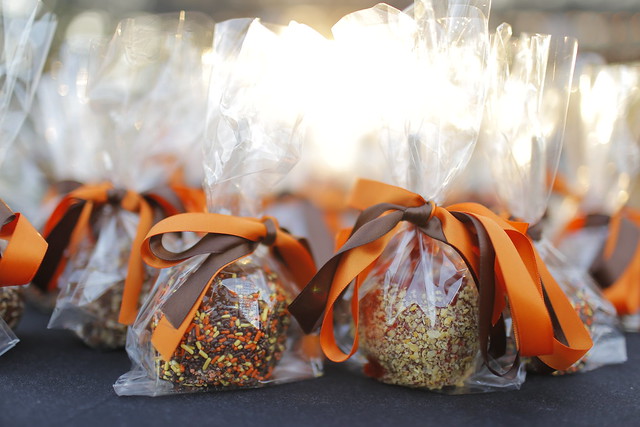 Mother of the Bride, are you and your daughter still looking for a favor idea for her upcoming fall wedding? If so, you came to the right place today—and just in time, too, since there's no time to spare at this point, right?
Caramel apples can provide the perfect fun and yummy treat for your guests to take home—or eat right there at the party if they're so inclined. As long as they're wrapped in cellophane (as pictured above), they'll stay mess-free until your happy apple-eaters decide to dig in.
Lots of fun options are possible with caramel apples.  Add a little pizzazz by rolling the apples in variety of toppings after they are dipped. Sprinkles, nuts, candy-pieces, coconut—whatever strikes the fancy of your bride-to-be and her sweetheart. They'll be easier to wrap, too, if they're dipped in something other than just caramel. I've even seen plain apples sitting atop a container of caramel and then wrapped together in cellophane. Tie the bags off with pretty color-appropriate ribbon and you're set!
Nothing says a fall party like caramel apples, MOB, so why not suggest it to your daughter? Have fun at your fall wedding!
*You might also like to read Summer or Fall Wedding Favor Idea: Jars of Honey, Edible Favors—Yes, Please!, Sculpted Pumpkins and Jack-o-Lanterns for Fall Wedding Decor, and Fall Wedding Bouquet Idea.
*For info about my book Mother of the Bride and my Wedding Inspiration cards, check out my Books/My Work page.
*The next issue of Life Notes, my quarterly inspirational newsletter with a giveaway in every regularly scheduled issue, will come out in early November. Sign-up is FREE and to the right! (If you're on a mobile device, scroll to the bottom of the screen and click View Full Site to find it.) *Temporary problem with Life Notes sign-up. To sign up, just contact me.