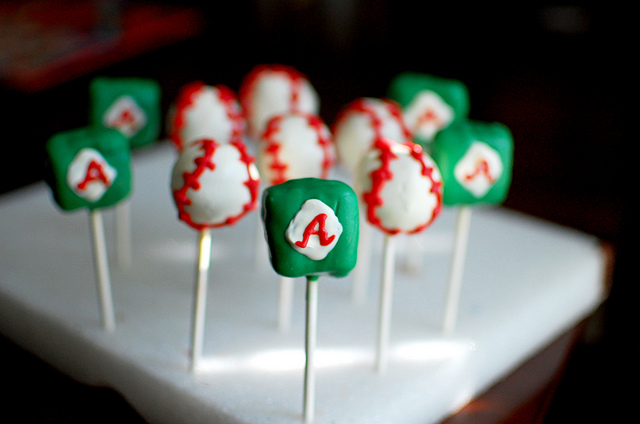 Mother of the Bride, here's a fun idea to pass along to the groom for his groom's cake—cake pops! Now his initial reaction may be those are too girly for me to have for my groom's cake, but you can quickly reassure him that they don't have to be.
One way to make cake pops manly enough for the main man on his wedding day is to have them feature his favorite sports team. The photo above doesn't display cake pops as an entire groom's cake, but it can give the groom an idea of what it could look like. If he can have baseball (or football or soccer ball, etc.) cake pops intermingled with cake pops featuring the logo/mascot/colors of his favorite team, he might say alrighty then, let's play ball!
Who knows, he might even come up with his own twist on the cake pop idea once he gets to thinking about sports in general or other things he loves. Tell him to go for it. It's so much fun when one idea sparks another!
So suggest away, MOB! The groom may love this idea—and he'll have you to thank for it. One more win for the mother of the bride!
*You might also like to read Wedding Cake Pops Equal Fun!

*Flickr photo by Jamie'srabbits, Creative Commons License