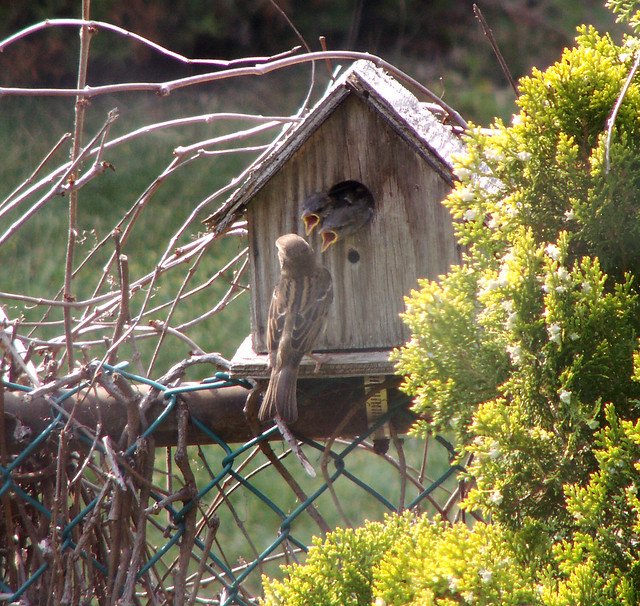 Have you ever spotted birds at work feeding their young? I have several times since I like to watch and photograph birds when I get a chance.
When we visited my parents one Memorial Weekend over a decade ago, I got to observe a particular bird's parenting skills over and over. Mom and Dad lived in Missouri then and had a couple of birdhouses on their property. Bluebirds had built a nest in one. I hoped to share a picture of the daddy bird's parenting prowess (he was easiest to spot because of his bright blue color), but darn it all, the shot is too blurry to use here on the blog.
This daddy blue bird took his responsibility very seriously. He worked tirelessly to feed his little namesakes. Time and again he'd come flying in from a distance to land atop the bird house and rest a moment before scooting through the little hole to where his young ones waited. Within seconds, he was out again, taking only a minute's reprieve before he was off scouting more food. He was a dedicated parent.
Have you spotted anyone feeding the young lately? You may be in the midst of feeding the young at your very own house—and I'm not just talking physical sustenance. As parents, we need to feed our children spiritually, too. Even when our kids are grown and gone, we still have opportunities to pour truth into their lives and eventually into our grandchildren's lives.
Have we in the past or are we currently filling our kids' or grandkids' hearts and minds with the Word of God as we "sit at home and when [we] walk along the road" (Deuteronomy 6:7)? Have we exposed them to the spiritual teaching available in our churches?
We can also help nurture and feed other young ones besides those in our own families. Think of all the children in your circle of influence. Consider also the spiritually young, those who have only recently come to faith. They need us who are more mature in the faith to take our responsibility seriously. They need us to work tirelessly to help them grow and become strong in the Lord.
Let's demonstrate some parenting prowess. Let's be faithful to feed the young.
"Come, my children, listen to me; I will teach you the fear of the LORD." Psalm 34:11 NIV
*How are you feeding the young in your circle of influence?
*The next issue of Life Notes, my quarterly inspirational newsletter, comes out in early February. One lucky subscriber (new or current) will receive a $15 gift card to Starbucks and a signed copy of my book to use personally, give as a gift, or donate to a library. Sign-up is free! Temporary problem with Life Notes sign-up. To sign up, just contact me.
*For info about my book Mother of the Bride and also my Wedding Inspiration cards, check out my Books/My Work page.