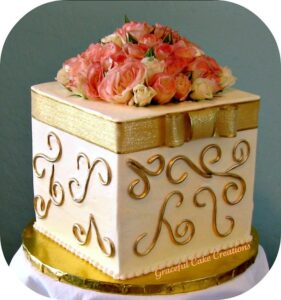 Mother of the Bride, are you or your bride-to-be daughter on the hunt for a unique wedding cake idea? I might have just what you're looking for today!
How about a wedding cake that looks like a gift box? The one pictured above is just one example of a multitude of possibilities. The fresh flowers make a lovely topper, but a ribbon and giant bow would look great too. As long as your cake designer coordinates the design with the wedding colors, the details can be up to you. And I'm willing to bet your designer will have some great ideas too, right?
Be sure to share this idea with your daughter, MOB. Who knows, the hunt just might be over!
*You might also like to read Unique Wedding Cake Idea: Word Search Cake! and Wedding Cake Idea: A Crepe Cake!
*For info about my book Mother of the Bride and also my Wedding Inspiration cards, check out my Books/My Work page.
*The new issue of Life Notes, my quarterly inspirational newsletter with a giveaway in every regularly scheduled issue, came out earlier this month, but it's not too late to receive it. Sign-up is free! Temporary problem with Life Notes sign-up. To sign up, just contact me.
*Flickr photo by Graceful Cake Creations; Creative Commons License