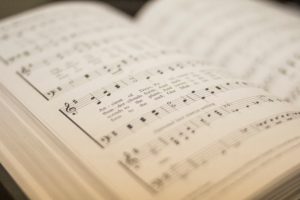 When I spend my daily time with the Lord, I like to incorporate sacred music in my worship. Sometimes I look up a current-day worship song on YouTube, but I find the very act of picking up my phone distracts me from my purpose. More often, I turn to an old hymnal for inspiration.
Many hymns, such as "Great is Thy Faithfulness" and "Be Thou My Vision", anchor my faith in its deep childhood roots. I sing these hymns, and I'm once again standing with the congregation while organ music swells around us, repeating the same words our ancestors once sang. I sing those beloved old tunes boldly to the Lord, my unremarkable voice reverberating in my empty living room.
I don't always sing from my hymnal. Sometimes I run across an unfamiliar hymn, whose tune I can't decipher without help. On those days I content myself with reading the verses aloud. Many a hymn started life as a heart-stirring poem before it was ever set to music. Consider the fourth verse of "O Worship the King":
"Frail children of dust, and feeble as frail,
In Thee do we trust, nor find Thee to fail;
Thy mercies how tender! How firm to the end!
Our Maker, Defender, Redeemer, and Friend."
Are you looking for inspiration for your personal worship times? Consider dusting off your old hymnal (or buying one second-hand—they're cheap these days). Hymns are a treasure trove of faith-filled thoughts.
May the hymns of the past bless your worship time today!
"O come, let us sing for joy to the Lord,
Let us shout joyfully to the rock of our salvation." Psalm 95:1 NASB
*Do you have a favorite hymn or worship song? Won't you share it with me in the comments?
Here are a few hymn titles to start with:
"Come Thou Almighty King"
"Crown Him with Many Crowns"
"When Morning Gilds the Skies"
"Holy, Holy, Holy"
"Amazing Love"
"Christ the Solid Rock"
"Praise Ye the Lord, The Almighty"
*Photo by Michael Maasen on Unsplash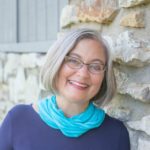 Jane M. Tucker is a lifelong writer and reader with a deep love for the art of storytelling. Her Midwestern roots inspire the stories she tells, both in her books and on two blogs: Postcards from the Heartland, and Midwest Almanac. Jane is the author of the Lottie Braun series, about an Iowa girl with a big gift for music, and the sister she loves with all her heart. Lottie's Gift and Lottie's Hope are available at Amazon.com and Crossrivermedia.com.
Follow Jane on social media:
Website: JaneMTucker.com
Facebook: Jane M. Tucker Author
Twitter: @JaneMTuckerAuth
Instagram: JaneMTucker
From Cheryl:
*The next issue of Life Notes, my quarterly inspirational newsletter, comes out in early May. One lucky subscriber will receive a $15 gift card to Barnes & Noble and a signed copy of my book to use personally, give as a gift, or donate to a library. Sign-up is FREE and to the right! (If you're on a mobile device, scroll to the bottom of the screen and click View Full Site to find it.)
*For info about my book Mother of the Bride and my Wedding Inspiration cards check out my Books/My Work page.