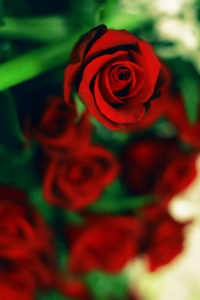 Have you ever wanted to lavish a costly gift on someone—whether financial, emotional, or an investment of time and effort—but felt a little unsure about it?
I'm not referring to using your resources in an irresponsible way, one that would leave you unable to pay your bills or meet your current obligations. No, I mean questions you may have about whether it's right to splurge on someone you love when millions around the world are so needy, when there are so many worthy causes that could benefit from your investment.
Consider this example from the life of Jesus. Matthew tells us in his gospel (ch. 26:6-13) about one—identified as Mary in the John 12:1-8 account—who lavished her love on the Savior just days before his crucifixion.
During a banquet given in his honor, Mary came to Jesus and anointed him with a jar of very expensive perfume. She drew immediate criticism, however, from the disciples. They called it a waste. They pointed out that the perfume could have been sold and the money given to the poor.
Jesus saw it differently, though. He said, "She has done a beautiful thing to me. The poor you will always have with you, but you will not always have me." (Matthew 26:10-11 NIV)
He also said she would be remembered for this act of love wherever the gospel is preached throughout the world. Jesus approved of her lavish gift of love.
Today the same is true. Worthy causes and desperate need will always be present, but we won't always have our loved ones with us.
I'm not suggesting we forget the poor or hurting. Of course, we should give to help those in need. But I think we can also feel free to lavish a costly gift on a loved one occasionally. After all, it's a beautiful thing to show someone the depth of our love. Just ask Jesus. I think he would approve.
". . .love one another deeply, from the heart."  1 Peter 1:22 NIV
*What lavish gift of love have you received?
*Hope this slightly revised post from March 2013 blessed you today!
*The next issue of Life Notes, my quarterly inspirational newsletter, comes out in early May. One lucky subscriber (new or current) will receive a $15 gift card to Barnes & Noble and a signed copy of my book to use personally, give as a gift, or donate to a library. Sign-up is free and to the right! (If you're on a mobile device, scroll to the bottom of the screen and click View Full Site to find it.)  p.s. Sign up by 4-24 to get in on this issue's giveaway. If you subscribe after that date, you will be included in all future Life Notes giveaways.
*For info about my book Mother of the Bride and also my Wedding Inspiration cards, check out my Books/My Work page.