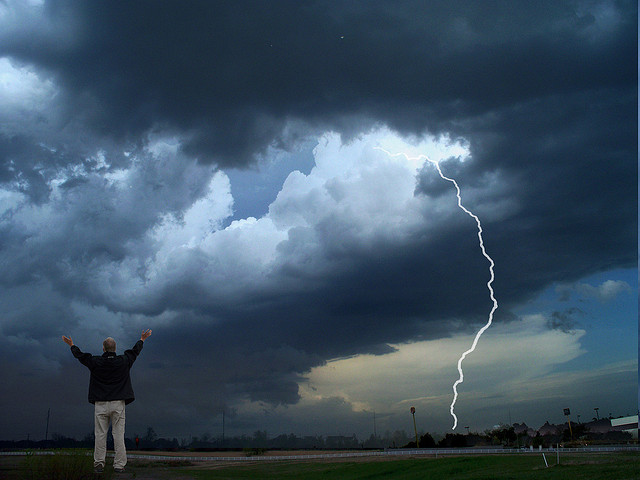 *I wrote this piece several years ago and used it in the August 2009 issue of Life Notes, my quarterly inspirational newsletter. The next issue comes out May 1. If you have not yet subscribed, sign-up is free and to the right!
The phone startles you awake. Your boss asks you to step into his office. An email, a text, or phone message brings you to a standstill in shocked denial. Each of these, just moments in time, intrude with the power to change everything. A storm has hit.
We've all been there—most of us several times. The first half of this year alone, my own little family has weathered some mighty rough waters.
First, an ongoing health crisis with my mother-in-law dominated for months before leveling out to a more stable place. Then, with no warning, our son-in-law lost his job in an economy where jobs are few but applicants are plentiful. And finally, another—and far more tragic—unexpected loss struck close to home. A good friend and her son were killed in a car accident.
Through each of these storms, as well as others I've experienced over the years, I've been reminded that we are not alone. There is a refuge. God stands ready to be our strong tower, our anchor in the storms of life. In fact, it's during dark times when he shows us the extent of his love and gives us incredible, personal touches. Many times it's when we're hurting that he shows himself most tender.
A few months ago I spoke with a loved one dealing with a very private storm. She had no idea how it might eventually pass or what the final outcome would be. I suggested that she try to get past the grief of the situation—to grieve, yes, but then to try to go on as well to embrace whatever God's will or purpose might be. In other words, I encouraged her to embrace the storm.
We can find great peace in embracing storms. Not because we enjoy them, but because we know God is working through them. Not only that, but as he walks through the storms with us, we can count on moments when he will wrap his arms of love around us and even pick us up and carry us.
I hope I remember these truths the next time a storm sweeps into my life. I hope I can find the strength to embrace it. And when I do? I'm confident I'll find the Master of the storm already embracing me.
"When all kinds of trials and temptations crowd into your lives my brothers, don't resent them as intruders, but welcome them as friends! Realize that they come to test your faith and to produce in you the quality of endurance. But let the process go on until that endurance is fully developed, and you will find you have become men of mature character with the right sort of independence." James 1:2–4, J. B. Phillips translation
*Is there a storm you need to embrace in your life right now?
*Flickr photo by jlwo, Creative Commons License