I don't know about you, but I'm so glad that Summer Photo Fun Is Back! I'm having such fun sharing the work of a few of my artist and photographer friends. I've enjoyed their work so much over the past couple of years, and it makes me happy to feature them here on my blog. I hope you're enjoying meeting some very talented ladies!
Today I'm thrilled to introduce you to Jana Botkin, an amazing artist I've gotten to know through blogging. You may have noticed her comments here on some of my posts. Isn't it great how the internet makes it possible for us to meet people we'd probably never meet otherwise? That's how someone like little ole me, a gal from the Heartland, can connect with a west coast gal like Jana. Gotta love it, right?
Jana is a studio artist from Central California. This means that she carries her camera around with her, continually gathering ideas for new oil paintings and pencil drawings. She and her newly retired husband spend much time at their cabin in Sequoia National Park. Jana refers to herself as a "Regional Artist from Quaintsville." She blogs regularly about her art and life at http://www.janabotkin.net/. Outside of her profession as an artist, she is a knitter, dark-chocolate fiend, might have a bit of a cat disorder, and is a follower of this blog :)
Today Jana is sharing some of her flower photography. She has assigned some personality descriptions to each. Enjoy—and consider which ones you most identify with! :)
Indian Paintbrush comes early and stays late. Can you relate?
Perhaps you are always a little bit tired, like these Languid Ladies.
Ranger Buttons – do you like to hang out in a group with people just like you?
Perhaps you think you are successfully masquerading as something else, like these Elephant Heads.
The Leopard Lily has the most stunning smell – are you giving off a sweetness?
Are you always cold? These are called Blue Lips.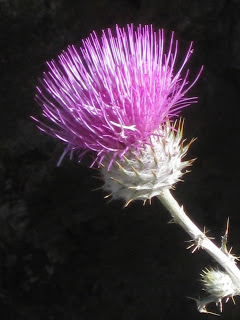 Maybe you are beautiful but prickly, like this Thistle.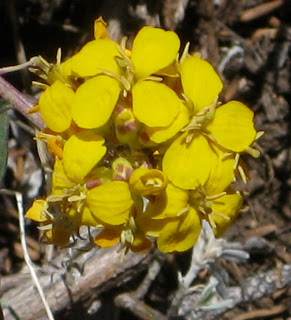 Are you a Wallflower? This flower is. Really.
Knotweed is a delicate and detailed little blossom. Are you complex?
Which flower do you identify with the most?
Jana, thanks so much for sharing your work with us!
"Flowers appear on the earth; the season of singing has come . . ." Song of Songs 2:12a
*Be sure to visit Jana's website and take a look at her art work. I especially love her work in pencil. The painting at the top of this post is called Farewell Gap. It's a 6×6 oil painting on wrapped canvas and sells for $50.
*Be sure not to miss the previous post Summer Photo Fun: Artist Jeneal Rogers!
*The next issue of Life Notes, my quarterly inspirational newsletter, will come out in August. Sign up is free and to the right!