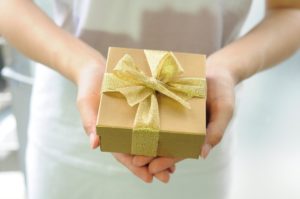 Mother of the Bride, you and your daughter both have new in-law roles you'll soon be taking on. As you become mother-in-law to the man who has captured her heart, she'll become daughter-in-law to the first woman who held his. Both are very special roles that deserve attention.
One way your daughter can nurture the new relationship she's developing with her groom's mom is to give her a special gift on the eve of the big day. She may already have thought of it, but if not, why don't you make the suggestion. It's just one more way you can help start her marriage and new role with the in-laws off on the right foot.
Possibilities abound for meaningful mother-in-law gifts. Some brides give a lovely framed photo, a personalized bracelet or heart necklace with accompanying message of thanks, or a beautiful vase etched with personal message. Others might give a small personalized keepsake box or music box. These are just a few ideas. Whatever she chooses to give will be sure to touch her new mother-in-love's heart.
Below you'll find some links that you can share with your sweet girl, MOB. I bet she'll quickly spot the perfect idea for her groom's beloved mom. So share away and be part of the blessing!
The Knot – Scroll down to Wedding Gifts section.
*You might also like to read Kicking Off the In-Law Relationship, Make the Mother of the Groom Part of the Team and Gift Idea: Prayers for the Mother of the Groom.
*For info about my book Mother of the Bride check out my Books/My Work page.
*The next issue of Life Notes, my quarterly inspirational newsletter with a giveaway in every regularly scheduled issue, will come out in early November. Sign-up is FREE and to the right! (If you're on a mobile device, scroll to the bottom of the screen and click View Full Site to find it.)