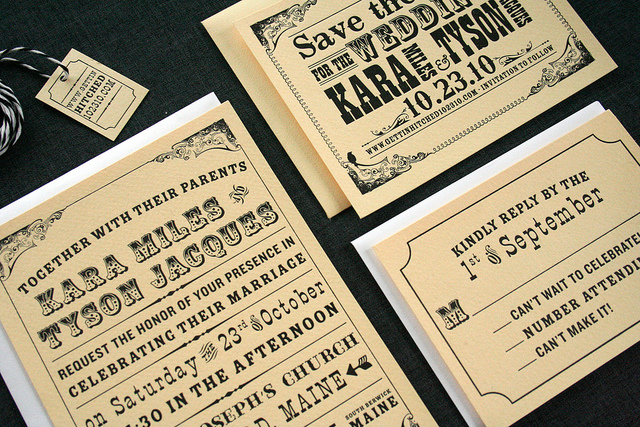 Well, Ma of the Bride, is your little bride-to-be cookin' up some rootin', tootin' fun for the day she's gettin' hitched? If so, why not add to the Old West rustic fun with some invitations that match the style of the wedding?
Typography style stationery that looks like flyers from the Old West will be the perfect addition to an Old West/cowboy/rustic themed wedding. Regional or era-appropriate wording like "Y'all come" or "gettin' hitched" can add to the overall fun, too, on everything from save-the-dates to invitations to the RSVP cards. The happy couple can get as down-home as they'd like or reign it in a bit, whatever suits their particular personalities and styles.
The typography style flyer-invitation might be something that the bride or groom or another family member or friend could design fairly easily, too. Saving money is always a plus, isn't it, MOB, not to mention the personal touch that will always be remembered.
So Ma, if your sweet gal is cozyin' up to the idea of an Old West, cowboy, or rustic-themed wedding, show her this idea and see if it tickles her down-home fancy. Ya'll have fun now!
*If you'd like to see some other western invitation ideas, check out the Western Wedding Invitation page on Zazzle. You might also like to read Rustic Wedding Idea: Boot Bouquets.
*The new issue of Life Notes, my quarterly inspirational newsletter with a giveaway in every regularly scheduled issue, comes out today. It's not too late to receive it. Sign-up is free! Temporary problem with Life Notes sign-up. To sign up, just contact me.
*For info about my book Mother of the Bride and also my Wedding Inspiration cards, check out my Books/My Work page.