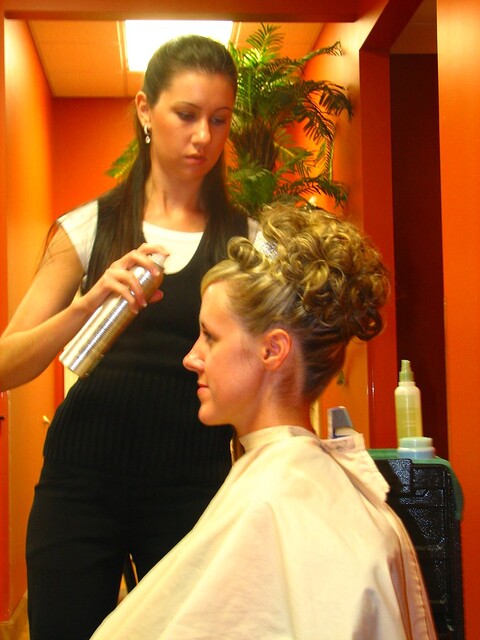 Mother of the Bride, here's an important hair tip for your daughter's wedding day: Be sure to schedule a trial run. You don't want to gamble with something as important as the bride's hair on her dream-come-true day. A trial run will help you avoid disappointment and unmet expectations on the big day itself.
Many brides accomplish this crucial trial run when they have their bridal portraits done. Not only does this special photo session provide an hour's worth of gorgeous photos of the bride in all her wedding adornment before the I do day arrives, it gives the bride and her hair stylist a chance to nail down and perfect the style the bride has envisioned for herself.
Not all brides choose to schedule a bridal portrait session, though. If your daughter falls into that group, MOB, go ahead and suggest a bridal hair run-through. It's worth the expense of an extra appointment to prevent unwelcome surprises—and unnecessary stress—on the biggest day of your little girl's life.
Mother of the Bride, as with so many other areas of life, better safe than sorry, right? And don't forget to snap some photos to help chronicle your wedding planning adventures. It's all part of the fun!
*You might also like to read Cake-Cutting Wedding Day Tip , 3 Tips for Working with Your Wedding DJ, and Wedding Photography Tip: Candid Shots of the Guests.
*For info about my book Mother of the Bride and also my Wedding Inspiration cards, check out my Books/My Work page.
*The new issue of Life Notes, my quarterly inspirational newsletter with a giveaway in every regularly scheduled issue, comes out today. It's not too late to receive it. Sign-up is free and to the right! (If you're on a mobile device, scroll to the bottom of the screen and click View Full Site to find it.) Temporary problem with Life Notes sign-up. To sign up, just contact me.