Mother of the Bride, before your precious daughter says I do on her wedding day, why not send her off into her next stage of life with a prayer? What could be more meaningful than a prayer falling from the lips of the one who has loved her, watched over her, taught her, and encouraged her from the moment she was born? Yes, dear MOB, you are that treasured. Your prayer will bless her in a way that no one else's can.
On the big day, after your little-girl-turned-bride is all dressed and waiting with her bridesmaids for the appointed time to get into place, have everyone get in a circle and hold hands while you pray for your darling daughter and the love of her life.
You may want to give your prayer some thought ahead of time and make mental note of the things you want to mention so you won't forget something important to you. After all, your brain may be on overload by the time you reach go-time. Or on the other hand, you may prefer to let it all come naturally in the moment from the overflow of your heart. Do what works best for you. There is no right or wrong way.
One thing is certain—your prayer asking for God's blessing and protection and for encouraging their total, sold-out commitment to each other and to God will undergird your sweet girl with strength and love and send her off into her new life with the complete support and blessing of her mom. What better gift could be given? I only wish someone had suggested it to me when my girls got married. We missed this special time together because I simply didn't think about it. But you don't have to miss it, Mother of the Bride. Now you've heard the idea!
So MOB, gift your daughter—and yourself—with this once in a lifetime moment and memory. And rest assured that God will use your send-off prayer in mighty and wonderful ways!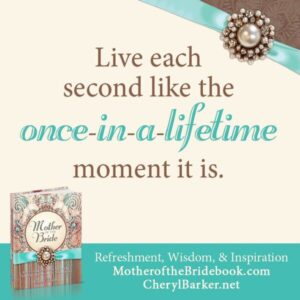 *You might also like to read A Prayer for the Newlyweds, A Prayer for the Bridesmaids' Luncheon, and Wedding Resource: Prayers for the Mother of the Bride. 
*For info about my book Mother of the Bride and also my Wedding Inspiration cards, check out my Books/My Work page.
*The new issue of Life Notes, my quarterly inspirational newsletter with a giveaway in every regularly scheduled issue, came out last week. It's not too late to receive it. Sign-up is free and to the right! (If you're on a mobile device, scroll to the bottom of the screen and click View Full Site to find it.)
*Stephtphotography photo of my nephew's beautiful bride Kaitlynn and her sweet mom Shannon